Innovation: a word that's overused, loosely defined and absolutely critical to the survival of your company.
Brian Weldy, VP of Engineering & Facilities Management at HCA, shared his insights on this buzzword of the business world at the Health Facilities Innovation Forum. Recent research from PWC revealed that nearly half of executives labeled innovation as a "competitive necessity" for their organization, regardless of industry. But what exactly does innovation really mean?
Specifically, Weldy explored two other key questions: how does it apply to healthcare facilities, and how do you get engaged to be considered a person who is innovative within your company?
The Three Dimensions of Innovation
Weldy emphasizes the three-dimensional nature of the term "innovation." From a categorical standpoint, efficiency innovation, sustaining innovation and disruptive innovation are three different levels. By leveraging each type, companies have a chance to generate immediate revenue while preparing breakthrough ideas for the future.
Especially in the financially-strapped and resource-strained facilities management world, Weldy believes it's vital for industry leaders to nurture and grow each of the different levels.
First we start with efficiency innovation, which takes place at "the core level" of the company. Efficiency innovation within a company is about the "do more with less" mentality: less people, less resources and less capital. "The beauty of efficiency innovation from a senior management perspective is the immediate advantage of cash flow," Weldy explained.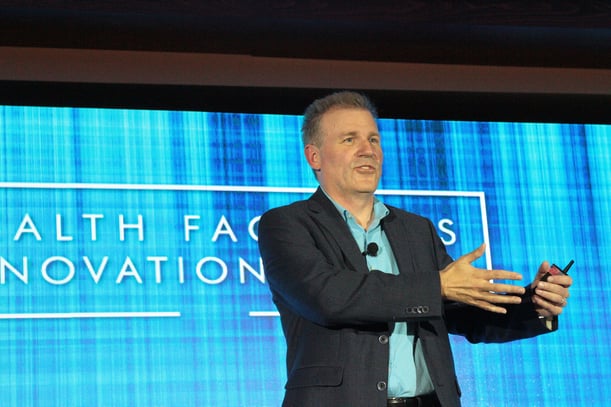 Sustaining innovation is done at the adjacent level. It centers around growing a company's core into adjacencies that provide instrumental income.
"These ideas are close to the core of what the company does, but circulating around the orbit," Weldy said. He mentions Urgent Care centers as an example of hospitals branching out. Nike is another example: at first known solely for tennis shoes, the brand stayed close to their core with new adjacencies such as athletic care and golf clubs.
"Although it's not a huge growth engine, management gets excited about it because it's nice to introduce a brand new product that doesn't destroy the core brand," Weldy said.
The name of disruptive innovation speaks for itself--this is the vibrant, explosive growth that most people think of when they picture innovation. According to Weldy, it has absolutely nothing to do with the other two levels.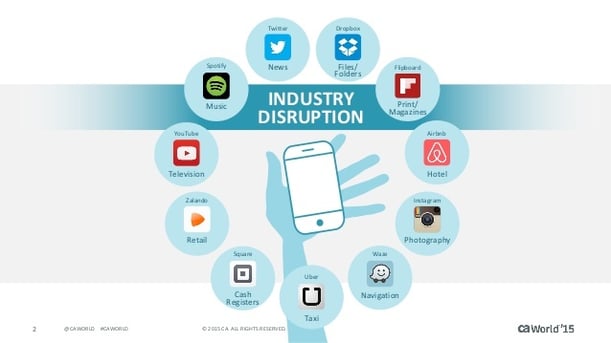 "In physics, a quantum leap is when you have all these electrons going around the nucleus and atom. All of a sudden, a quantum leap happens, the electron disappears and shows up into new orbit--it doesn't transition from one orbit to the next, but ceases to exist and reappears in a new place," Weldy said. "When you think about it, it's like disruptive innovation. It's stunning, shocking, and such a big change--companies have a hard time getting their mind around it."
Uber is the perfect example: a new planet thriving in the solar system that didn't exist before. The Uber's and Airnbnb's of the world improve a product/service in ways that no one sees coming. Disruptive innovation provides the largest growth opportunity for companies and is a huge job generator.
Cultural Restructuring Is Necessary To Achieve Innovation
Often, the greatest roadblock to innovation isn't necessarily coming up with the big ideas. It's maneuvering around the risk-averse management and organizational roadblocks that exist, especially in large companies. How do you create a culture of innovation?
When discussing how ideas are sprung into action, Weldy has a slight alteration to the traditional answer of "people, process and technology." He replaces "technology" with "place," explaining that it's a strong yet overlooked aspect of how services get developed.
"The problem is we're trying to take people, process and place and make them do the same thing," Weldy said. However, organizations must restructure themselves to work differently in order to be innovative.
For example, do you put an innovation team in a call center environment, or normal production work area in your office? Do you ever sit in meetings where everyone seems to be on their laptops multitasking? Do you have more than a few innovation projects happening simultaneously? These high levels of distraction are the kiss of death to efficiency and innovation.
Ideally, companies must make teams where people are solely focusing on one innovation project at a time: they must think, breathe it, and sleep on it. They must be intimately involved in the details or risk marginalizing their effectiveness.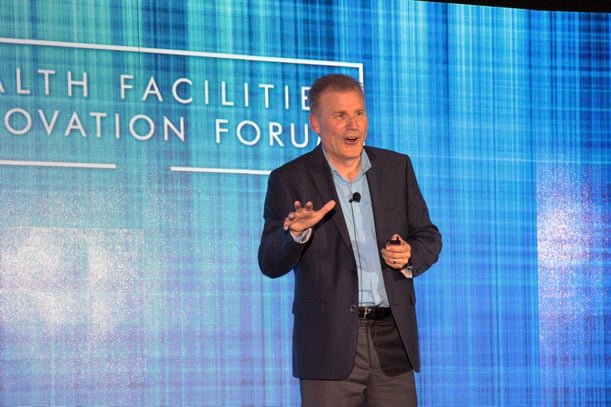 "When it comes to disruptive innovation, governance is the number one thing that impedes it success, because someone wants a 3-year ROI or performance forecast, where it's been tested, they want to set up a committee to prove things, set up consensus, etc.," Weldy said. "Yet how many examples in history has innovation ever worked that way?"
Place needs to be separated to see results. "I firmly believe that if a company is really looking at innovation, they need to remove the people from production and put them in a separate place," Weldy said. "Give them the resources and responsibility, then give them breathing room to let them make it happen."
Synthesis Thinking for Supercharged Creativity
According to Weldy, the insight of synthesis thinking is crucial to identifying new opportunities (or future threats). It's precisely the opposite of how we're taught to think, which is why innovation can take off when companies take a step back to reflect on concepts that are seemingly unrelated.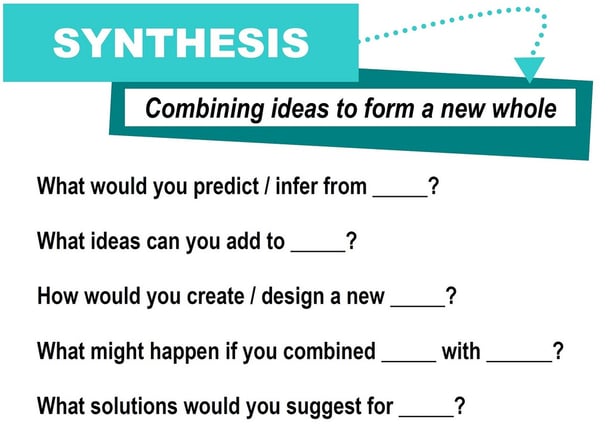 To illuminate his point, Weldy showed the audience an assortment of seemingly unrelated objects: a tank tread, pair of skis, handlebars, a bench, motorcycle fairing, and engine. The sum of these parts? By thinking differently and dynamically, you eventually realize you're looking at a snowmobile.
At its essence, synthesis thinking is a way of looking at all the different parts of a whole in new ways. Weldy believes there's unbelievable value in looking to other industries to see how they process innovation. For Weldy, a recent visit to the FedEx innovation lab in Memphis, Tennessee (though unrelated to healthcare in any way) yielded a refreshing new perspective. Escaping the office for a creative excursion outside the industry can breathe exciting new life into your own culture.
"It's invaluable to look at synthesis and systems working together to solve various problems from an innovative standpoint," Weldy said. Using synthesis in all aspects of innovation can lead to surprising new combinations and capabilities.
Translating Your Vision to Reality
Because no discussion on innovation would be truly complete without Steve Jobs, Weldy brings up his most well-known quote: "A lot of times, people don't know what they want until you show it to them."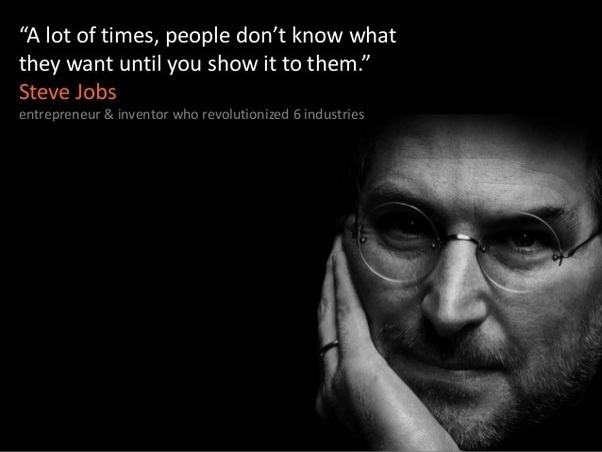 "This quote reflects an interesting aspect of collaboration, because you all have a different vision in your mind of what needs to happen-- how do you get together and demonstrate something that people can use, touch, feel, understand?" Weldy said. "Doing so created the success Apple experienced under Jobs' leadership."
To create a vision that everyone can understand at HCA, a strategic innovation advisory group first takes in new ideas and then allows people to present Shark Tank-style. The group is currently researching the best mechanism to validate ideas coming in, especially in a big organization.
"Innovation isn't so much about the idea itself but trying to understand the context of how that idea applies to the strategy," Weldy shared. "For us, we're always scaling. I'm trying to change the language, which is usually, "Lets do a pilot" to "Let's do a proof of concept." It's a little riskier, but you do it at a small, rapid pace."
Innovations that will Impact Healthcare Facilities
Weldy ended his talk by bringing innovation back to healthcare facilities specifically. He touched on the innovations that will affect the near future of the industry, asking attendees: "What is needed from an innovation standpoint that will change the world of what we do?"
Answers from the crowd included...
-Remote systems monitoring and fault detection.
-Crowdsourced maintenance by applying the Uber model to locate maintenance people in real time.
-Home based care.
-Telemedicine.
-Digital fabrication and 3D printing.
To further explore these future possibilities, it's essential to properly maneuver through the challenges of regulation and litigation risk along with seeking and securing revenue pathways to bring innovative ideas to practice.
"Your organization has to create the ability for there to be an innovation group dedicated to maneuvering around these barriers," Weldy said. "Don't wait to be asked, but assert yourself into the process."
To hear more of Weldy's thoughts on igniting innovation, check out the full video here: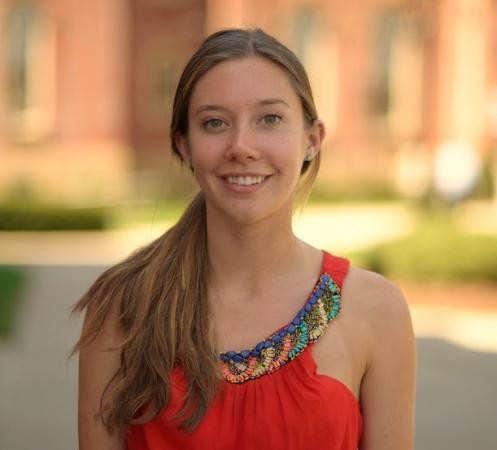 Posted by
Hannah Chenoweth is a writer for influence group. Passionate about collaborating with thought leaders in real estate, design, construction & facilities management.
Collaborate with your Peers!
HealthSpaces is a community for people that plan, design, build and operate spaces where healthcare is delivered.
Jun 12-14, 2022 | Louisville, KY
Learn More