Prefab is gaining ground in healthcare construction for its ability to increase quality and speed, as well as decrease the need for hard-to-find skilled labor while lowering costs.

OhioHealth experienced these benefits firsthand after embracing prefabricated components in the construction of the OhioHealth Riverside Methodist Hospital Neuroscience Center. The nine-story tower, which includes 224 private rooms and 410,000 square feet dedicated to brain and spine patients, was completed on schedule and significantly under budget.
To learn more about the role prefab played in this accomplishment, we spoke with Roland Tokarski, System Vice President for Real Estate, Construction and Facilities, and Doug Scholl, System Director of Facility Planning at OhioHealth.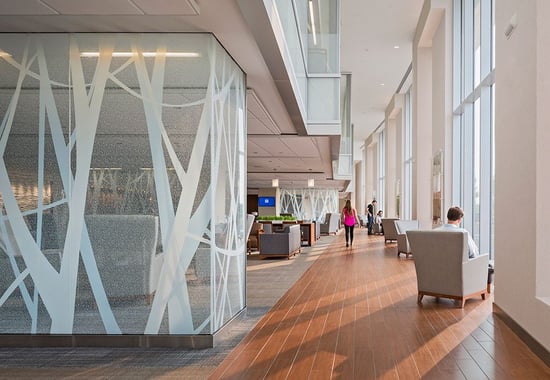 Image courtesy of NBBJ
What was the scope of prefabrication involved in this project?
Roland: We fabricated pieces and parts of the building during the process, not the building itself. It was actually OhioHealth's first time using this level of prefabricated components. A lot of the projects we do are renovations of various sizes, so we were excited to maximize the efficiencies that prefab allows for on a larger scale.
Doug: The Neuroscience Center involved many repetitive components that were perfect for prefab. We prefabricated elements including components of the exterior skin and curtain walls, corridor MEP infrastructure racks, in the patient floors and the OR areas, patient toilet rooms, patient rooms and pre-op/post-op room headwalls, and infrastructure for the single-user bathrooms. The majority of these were built, off-site, in a warehouse a few miles from the site, and then installed into the building as completed components.

Did incorporating prefab elements alter the traditional way your project team works?
Roland: Yes, it did. It was a contractor-led design-build process from the very beginning, with strong lines of communication between the contractor and architect. This gave the contractor the ability to adjust the design schedule and do some things in ways that create a different level of synergy, like bringing in the MEP trades earlier in the process.
As the architects were designing the conceptual and schematic design of the hallways where prefabricated elements were going to be, the contractors had an opportunity to sit at the table and comment on the designs in progress. This approach definitely allowed for deeper collaboration.
This project came in well under budget. Do you think embracing prefabrication played a role?
Doug: Prefabrication played a role in helping both the budget and the schedule. This is one of those questions our design-build team is asked all the time, but because we never built the same exact project the traditional way, it's hard to say how the exact amount it saved.
For the trade work, we did gain a lot of efficiency in labor hours. The work in the warehouse had significant savings: On the MEP infrastructure racks, we would have had five people working at the same time if they were field built. Alternatively, one person could be in the shop constructing these, before the floor had even been poured in the field. So we estimate we gained 30-40% in labor hours on those prefab elements because teams can perform multiple construction activities earlier and in parallel, with fewer people working on them. Further, these are done in a controlled environment, reducing material waste and increasing safety with installers not working off ladders.
Roland: Like Doug said, it is very hard to quantify, but there are definite advantages that prefabrication brings to the table. Inherently, we recognize [that] it generates efficiencies, compresses project schedules, creates less waste, increases quality, and creates a safer environment and cleaner job site because most of the work was done in shops and warehouses and then brought out to the field.
Since this was OhioHealth's first time using prefab on this scale, were there any unforeseen challenges?
Doug: I would say no because we didn't know what the prefab elements were going to be when we started the project. Rather, we looked for the opportunities as we developed the project. We knew we wanted to have 224 patient rooms that were the same to allow for nursing efficiency and a consistent patient experience.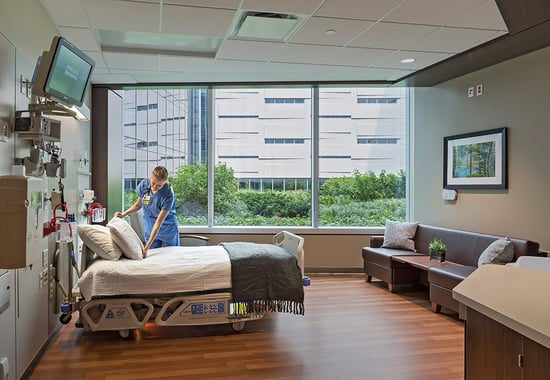 Image courtesy of

NBBJ
Because we made decisions to standardize, it allowed for all of the headwalls, toilet rooms, etc. to be the exact same design and therefore perfect candidates for prefab elements.
Any misconceptions about prefab that were shattered for you after this project was finished?
Doug: From the OhioHealth perspective, we didn't know what to expect because we hadn't done a big prefab project like this. Whiting-Turner had just come off the Miami-Valley project, so they were very helpful in guiding us. There were a lot of things we learned, and we were open-minded going into it because of the opportunity provided for us.

Do you see the trend of prefab in healthcare facility construction continuing?
Doug: Definitely, especially in larger healthcare projects. I don't know why anyone wouldn't take advantage of the benefits. At OhioHealth, we're looking for the opportunities to make it work, but we don't always have projects of this scale that have the inherent efficiency. We have actually continued this trend in our ambulatory facilities, and have created prototypes for 34 different rooms for those facilities. We have been able to shorten both our design and construction time for these facilities.
Is there anything I didn't ask you that you feel is important to mention?
Doug: I think open, honest discussions with your consultants and contractors during the selection process is important so that you know if they have prefab experience and capabilities.

We had a huge advantage utilizing the design-build approach/contract we had with our contractors and architects, rather than a typical two-contract arrangement where the architect and contractor are separate. Having the design-build team as one partnership from the beginning allowed for much more flexibility. Also, I would say it's important to be open-minded to the suggestions of your contractors, always ensuring they align with your organization's goals at the end of the day.
---
Join us at HealthSpaces for more on innovations in healthcare construction, design, and operations.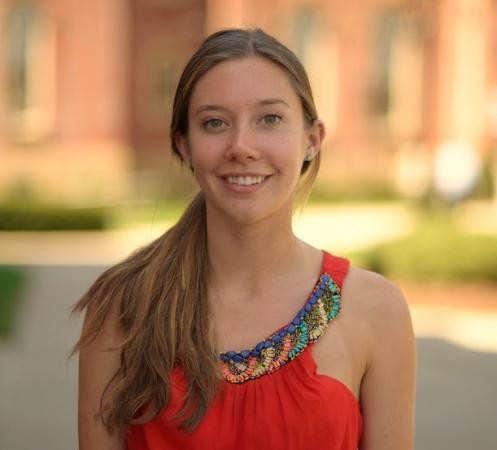 Posted by
Hannah Chenoweth is a writer for influence group. Passionate about collaborating with thought leaders in real estate, design, construction & facilities management.
Collaborate with your Peers!
HealthSpaces is a community for people that plan, design, build and operate spaces where healthcare is delivered.
Jun 12-14, 2022 | Louisville, KY
Learn More