"The Future of Real Estate is Modular."
"Modular Construction Will Take Over the World."
"Modular buildings put together in factories could play a role in the cities of the future."
So declared Forbes, Architizer, and CNBC in the last two years alone. With headlines like these, it's hard not to wonder why the modular construction boom hasn't taken off yet. After all, "the future" has been around for roughly 50 years, but the buildings industry still seems reluctant to embrace it.
At a recent HealthSpaces event, Danny Forster, principal of DF&A, offered a simple answer: "Modular is fundamentally broken."
He would know. Already a leader in the burgeoning space, DF&A designed the 26-story AC NoMad Hotel in New York City, which would be the world's tallest modular hotel, and won approval for a 300-foot high-rise in San Francisco, set to be the tallest modular building on the West Coast.
Over the course of his talk, Forster outlined why modular construction has yet to live up to its promise, and explained how DF&A's new partnership with Berkshire Hathaway-backed MiTek stands to change that.
Self-Fulfilling Prophecy
As Forster described, the industry's reluctant embrace of modular construction is a self-fulfilling prophecy. Because it's still so uncommon, setbacks in any individual project inevitably come to represent all modular projects. When stakeholders see one slip-up, they become wary of the whole idea. "Lenders get skeptical, insurance companies get skeptical, general contractors want to walk away," he said. "Local labor starts to say, 'We don't want to be involved in that work.'"
Changing the conversation around modular means owning up to its limits. Perhaps the most important of these is that modular isn't for everything: in fact, it's only appropriate for "a subset of a subset of a subset" of buildings, Forster argued. While it makes sense for certain hotels, residential applications (including, crucially, affordable housing), and even hospitals, it will "never touch" commercial spaces.
"You're not going to be doing modular bowling alleys or shopping centers," he said. "It begins to make sense only for a certain typology of building."
A High Level of Coordination
Even within that subset there are ample challenges, like the close coordination required between a project's architect, interior designer, mechanical engineer, structural engineer, and envelope consultant at the very beginning of the design process. "You need to draw more at an earlier stage, at a higher level of resolution, and typically with software that you're not paying these people to work in," Forster said.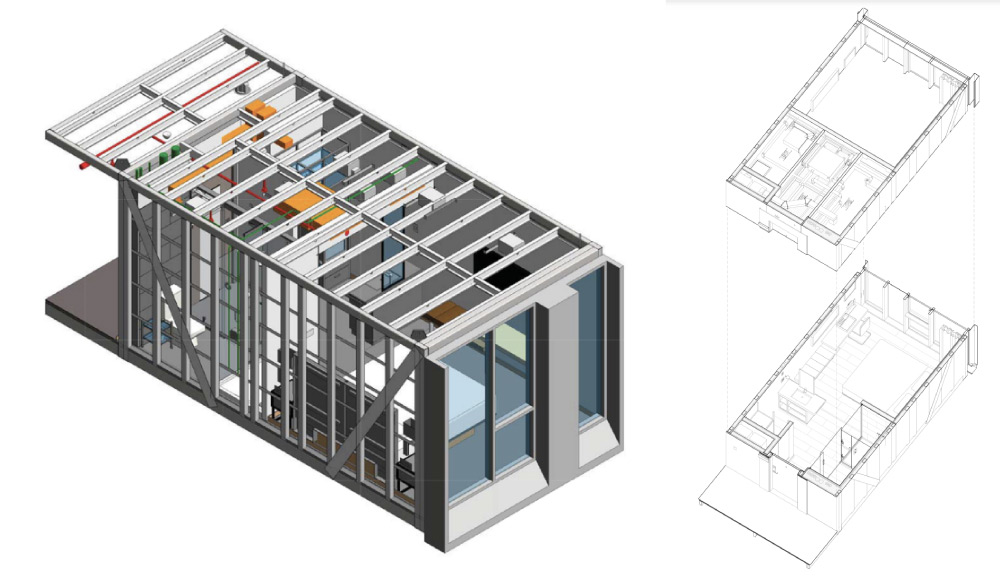 Modular Design Documentation
To illustrate this point, he described one small aspect of one of DF&A's modular projects: a vanity detached from a bathroom. To transport wastewater from the vanity to the building's main stack, his designers had to figure out a way to get it through steel pieces under the module's floor.
"Under normal circumstances, you could route that out, or maybe you're going through some studs," he said. "But because the cage itself is the core structure of the building, any penetration that you're running has to go back to the engineer, because the entire base building is designed through that cage. So the level of integrated coordination is very difficult, much different than a typical project."
This level of complexity is compounded by the fact that each project is functionally a bespoke undertaking: there's no uniform roadmap for modular construction. You may be finishing your CDs at the same time you're fabricating the building, oh and by the way your fabricator is on a different continent than your general contractor – which poses its own set of QA/QC challenges. Add in the likelihood that you'll have to custom-design fire tests at significant expense, and suddenly you start to understand why modular construction hasn't quite taken off yet.
Reinventing Modular Construction
DF&A's new partnership with MiTek aims to solve these problems by creating that roadmap. At its core, the idea is that MiTek will develop a platform that handles all the hard parts – from scheduling to drawing up fabrication documents to manufacturing elements themselves – while allowing developers, architects, and general contractors to focus on their own core competencies.
The result will be a drastic reduction in costs and complexity: in other words, a drastic increase in modular's accessibility. No longer will GCs have to operate expensive modular plants. Instead, with MiTek's support, they'll receive portions of prefabricated elements and assemble them in a temporary facility. "You can defray those large operating costs and let them be exclusively project costs," Forster said. "It's not dissimilar to a general contractor renting a tower crane."
He compared the partnership to a (sadly hypothetical) world where Uber used its technology to empower the taxi and limousine industries rather than decimate them. "What if we said the existing players in the industry are really good at what they do, let's just help them do what they do better?" he asked. "Let's not make architects draw buildings differently. Let's not make contractors manage subcontractors differently. Let's enable them to do what they're already doing, better."

Danny Forster Architecture - San Francisco Modular

The goal is not to systematize modular construction to the extent that all buildings look the same, he stressed. Rather, it's to give developers the tools they need to make beautiful, unique modular buildings without all the obstacles they face today.
"We're very optimistic that this technology can work," he concluded, citing the high-rise modular tower DF&A is designing in San Francisco. "But we fundamentally believe that there's a lot of basic – dare I say, boring – work that has to happen right now. If we have the collaboration of hoteliers, developers, and other architects, we can get the system locked so folks can do this and ultimately make modular mainstream."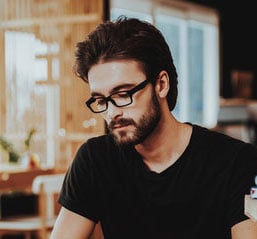 Posted by
Steve Manning is a journalist based in Idaho. When he's not writing, he can usually be found at the theater or taking his dog on a hike. If he could only go to one restaurant for the rest of his life, it would be Al's Place in San Francisco.
Collaborate with your Peers!
HealthSpaces is a community for people that plan, design, build and operate spaces where healthcare is delivered.
Jun 11-13, 2023 | Frisco, TX
Learn More