With most hospitals still slow to adopt new technology, Humber River Hospital made history last year as the first full-scale digital hospital facility to open in North America. The 1.8 million sq. ft. Toronto-based medical center is charting the new frontier in seamless, paperless healthcare delivery with its state-of-the-art innovations, from robot-assisted surgery to machines that deliver both laundry and lunch.
At the Health Facilities Innovation Forum, HRH's Director of Planning & Projects Lorie Pella shared the principles that shaped the team's strategic direction and culminated in the record-breaking achievement of having both electronic and integrated systems.
"It's a very organic process and you can't tell where one element begins and the other ends," Pella said. "The lean, green and digital elements combined provide the foundation for superior patient-centered care. Each are integrated, interrelated, and informs the other."
Element 1: Lean
As one of Canada's largest acute-care hospitals with 656 inpatient beds and 450,000 patients per year, where did the team begin applying lean principles?
The lean innovations start even before patients arrive, as they find their check-in zone online just like they would do at the airport. Self-serve kiosks activate their patient records upon arrival, and different clinics are marked with letters so patients can easily find their registration area.
The team also applied lean design for staff workflows to reduce time and operating costs while shortening travel routes. Ease of access and wayfinding were top-of-mind during the design process. One key decision to improve the patient experience was to create separate entrances for high-volume clinics.
"We wanted to keep the busiest clinics apart to create a healing environment, rather than a stressful, busy place," Pella said.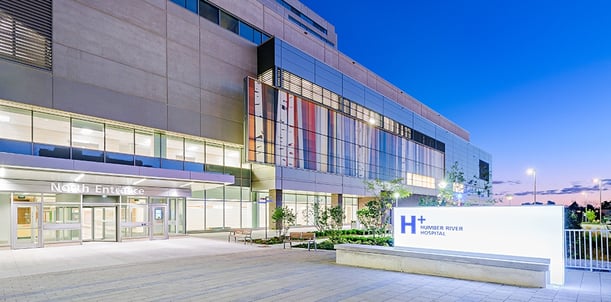 Element 2: Green
"Energy efficiency was such a key part of our strategy because it's such a huge cost for operations," Pella said.
To "green" their operations, the hospital used a number of eco-friendly methods, such as reduced ventilation velocities, increased duct sizing, efficient equipment selection, and intelligent lighting systems. Green roofs were installed and natural light was maximized along with 100% fresh air for better IAQ. Waste heat recapture was also an integral element of the sustainability strategy, especially during harsh Canadian winters.
"Humber River Hospital set a target of 40% energy cost reduction from what is mandated by national standards. Although they still haven't achieved their target, they are currently the most energy-efficient hospital in Canada."
"We still have about a year's worth of calibration to go," he said. "It's going to take some time, but all the little tweaks add up to something far more significant in energy efficiency."
Element 3: Digital
Last but not least, Pella laid out the digital strategy that's led to significantly improved quality of care.
Humber River Hospital uses Information, Communication & Automation Technology, which is referred to as ICat. This makes traditionally disparate systems interoperable through the use of a common network that shares info across building, administrative and operational systems. ICat applies integration and automation across all aspects of the hospital.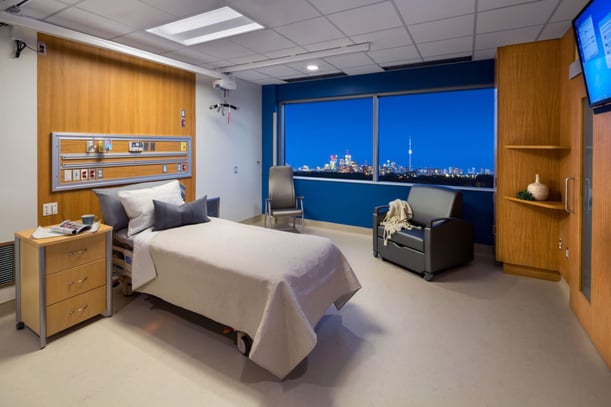 From bedside communication and entertainment portals, patients are able to control the lighting and temperature, order food, and even Skype relatives. Further empowering patients is bedside access to their health record anytime from the touchscreen portals.
"By leveraging the most innovative technologies, efficiency has been maximized and the delivery of care totally transformed."
Time-saving improvements free up staff to focus on patients, rather than the more mundane but necessary tasks such as delivering lunch trays (automated guided vehicles do so instead) or sorting medications (cue box and pill pickers in the pharmacy). A Pneumatic Waste & Linen Removal System takes care of transporting laundry and blood samples. Perhaps most remarkably, the state-of-the-art DaVinci Robot even assists with surgeries by replacing human hands with robot arms to make the process far less invasive.
The staff keeps mobile and connected through real-time locating devices, which eliminates noisy, distracting overhead announcements and even allows relatives to track down their loved ones during their hospital stay. Among the results are faster diagnosis and treatment, enhanced customer service and patient satisfaction, and leaner operations.
A Dynamic New Design
One key component of the digital strategy wasn't included in the original specs–but a design builder introduced it to Pella and the team anyway. After months of research, the team decided Dynamic Glass indeed embodied the lean, green and digital principles they wanted and included 26,000 sq. ft. of the intelligent window system and control technology in patient rooms. Integrated into the hospital's building management system, the Dynamic Glass includes intelligent controls that automatically tint the panels to maintain an optimum interior environment for patients.
Benefits of the Dynamic Glass include:
-Algorithms that optimize daylighting, thermal comfort, and reduces glare.
-Patient override controls from bedside.
-Reduced life cycle & maintenance.
-Infection control (infection rates have dropped significantly).
-Improved energy efficiency.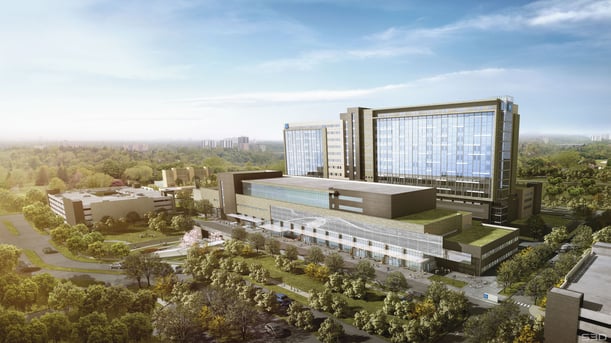 A New, Seamlessly Connected Overall Experience
Though Humber River Hospital employs advanced technology, Pella explains that it all really boils down to striving for increased patient experience, empowerment and satisfaction.
"It took us about 15 years to get here, but we have a very small team and each principle, whether it was lean, green, or digital, has a champion to advocate for it," Pella said. "We work not in silos, but together. Each champion owned their principle and that's what make it all come together."
Pella maintains the patients aren't the only party benefitting: the staff experience has improved as well, with automation freeing up more time and reducing repetitive entries so they can provide the best possible care. Plus, employees are now safer thanks to Transport Systems that improve physically demanding tasks, such as pushing heavy carts. With connectivity providing live and up-to-date info for mobile caregivers, real-time responses to any event are easier than ever.
"We are a big stakeholder in the community, so we need to be stewards of the environment," Pella said. "We believe the health of the environment is interlinked with the health of the people and patients."
Through their interactive wayfinding and information system, landscaping and areas of respite for staff, community, and patients, Humber River Hospital is also able to provide an elevated experience for visitors and the community.
"It's not the ideas that generate innovation, it's the people who can take them and work together and make them work with a higher goal in mind," Pella said. "We always try to continue to move forward, to not just maintain but truly get better."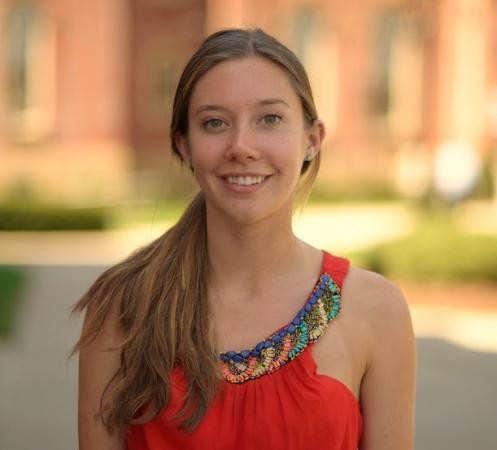 Posted by
Hannah Chenoweth is a writer for influence group. Passionate about collaborating with thought leaders in real estate, design, construction & facilities management.
Collaborate with your Peers!
HealthSpaces is a community for people that plan, design, build and operate spaces where healthcare is delivered.
Jun 12-14, 2022 | Louisville, KY
Learn More