Is the era of hospitals being built brick by brick coming to a close?
Off-site manufacturing is quickly gaining traction as a mega-efficient solution to delivering both large projects and smaller clinics in record speed. Manufacturing's star is also rising as the supply of skilled labor continues to shrink. With increasing pressure to curtail rising costs, the process appeals to this need with both time and cost savings that could disrupt the way we "build" buildings on a large scale.
According to Chris Giattina, off-site manufacturing presents a significant opportunity to revolutionize healthcare construction. The Chief Executive of BLOX, a manufacturer of medical modules, started the company in 2009 to improve the design/construction process via integration of manufacturing methods.
We spoke to Giattina about the unique benefits and challenges of off-site manufacturing.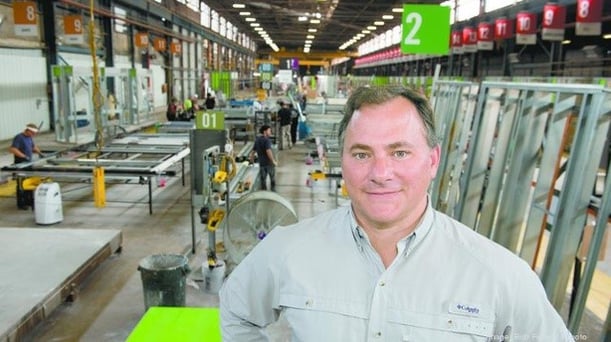 Chris Giattina, CEO of BLOX, via BizJournals.com
How can Manufacturing Methods Transform Construction?
The Modular Building Institute defines prefabricated construction as:
"the process of building a structure off-site, under controlled conditions, using the same materials, codes and standards as conventionally built facilities."
If this notion doesn't sound revolutionary to you, it's because it's not; in a way, it's an old idea made new. It's essentially the concept of applying factory processes, which traditionally mass-produces identical products, to turn out buildings that are actually highly customizable.
Giattina highlights a comparison that the majority of Americans can relate to: the automobile.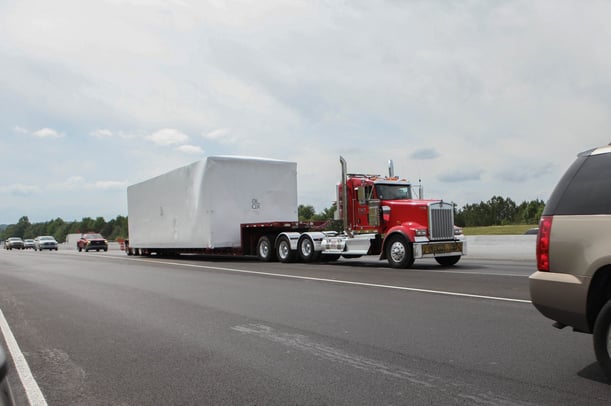 Uber module in transit via bloxbuilt.com
"Though most of us don't get to build a car from scratch, many of us will customize one. To make high-quality cars accessible, modern cars are built on a platform system that shares a set of common design, engineering and production efforts so they can work over a variety of models, types and brands."
The Toyota Camry and the Lexus ES are different cars built on the same "chassis." You can find a Honda engine in a GM Saturn. Interchangeability is key and building hospitals in the 21st century will leverage the same principles.
We have a standard building chassis that can still be customized within by an established network framework, which allows a network of suppliers capable of filling demand without reinventing the wheel. Just like cars, you get higher quality at lower cost, faster. We are doing it now for large healthcare providers in the US," he said.
A 2016 article from McKinsey illuminates just how ripe for disruption the construction industry is. Data reflects low and often volatile financial returns for contractors, and that construction productivity has even declined in some markets since the 1990s.
"It is not necessary to change. Survival is not mandatory."
-W. Edward Deming
Giattina could no longer ignore the construction industry's stagnation during the economic meltdown of 2008. His experience leading the design of facilities for Honda and Kia in the mid-2000s planted a seed in his mind:
"What can we learn from the construction of these high-quality machines via manufacturing methods? How can we apply this to modern design and construction?"
The Birth of BLOX
BLOX was born in 2009 out of Giattina's drive to create higher quality healthcare facilities at a faster rate and lower cost. BLOX's modules are designed and manufactured to replace large complex components of traditional construction.
Manufacturing can supply a range of projects, from cardiac care to ICU's to surgical suites to whole buildings. Implementing advanced multi-trade manufacturing techniques, BLOX completes over 30 projects a year for large national clients like HCA and UHS. As the systems scale, it is becoming more feasible to apply their methods to smaller stand-alone facilities.
How exactly do Giattina and his team simplify construction with manufacturing productivity? Their weapon of choice is DMC: an open-source project delivery process that stands for "Design, Manufacture, Construct." DMC allows architects to design buildings that can capture manufacturing productivity to make construction easier.
Thoughtful design is the cornerstone of DMC. Though BLOX works with architects around the country, they continue to lean heavily on GA Studio, Giattina's architecture firm that invented the DMC method. Since BLOX's start eight years ago, growth has skyrocketed and annual sales have grown 200% year over year.
A recent article sums up BLOX's short history: "Patient rooms—headwalls, footwalls and bathrooms—was the start. Today BLOX nests these smaller modules into complex "uber modules" which are large structural steel frames housing patient rooms, surgery suites and diagnostics complete with integrated building systems of mechanical, electrical and plumbing distribution."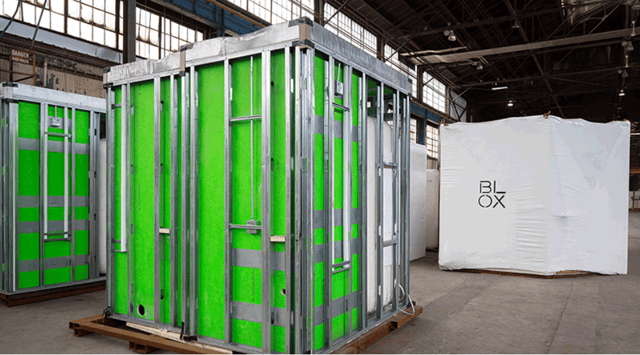 Packaged unit ready to ship, via bloxbuilt.com
Why is Manufacturing Successful?
BLOX's growing success is an indicator that more and more health systems are waking up to the advantages of manufacturing to replace on-site methods. The benefits include:
Shortened timelines.
Cost savings.
Improved safety

.

Solution to labor woes.
Increased collaboration.
Environmental sustainability.
Higher quality.
Reduced change orders.
Significantly shortened project schedules are perhaps the most well-known benefit. Manufacturing modules creates efficiencies that ultimately yield big savings (significantly quicker timeline, reduced interest on loans, lessened reliance of on-site labor, etc.).
Shortened project timelines help hospitals serve patients in need. With a tightening labor market and rising construction costs, manufacturing also allows for work that can be done with fewer people.
Workers also receive the benefit of safer conditions, as an off-site location shields them from inclement weather and removes typical construction hazards while also eliminating the noise, disruption and site impact.
A controlled environment with BIM technology allows for the optimization of production, resulting in higher quality. With each component precision-cut, waste is reduced; and timelines are shortened, which lowers energy consumption overall. The issue of change orders, which are notorious for exhausting funds and delaying schedules, is also significantly reduced with all aspects of the project finalized ahead of time.
Misconceptions about Prefab
When it comes to integrating manufactured components into construction, there's a definite learning curve. Giattina explained that teams must adjust the way they normally work, though by the second or third project "they normally have it down to a new science."
One challenge is the commitment required: unlike conventional construction, manufactured components needs to be finalized by all parties before the modules are produced. Thus, agreed-upon mockups early in the design phase are vital.
"The DMC workflow is easier in some places and harder in others. In the aggregate, it's far simpler to use 50 parts that are already supply-chain managed, regulated and tested, than 10,000 loose pieces," he explained. "The difference is a far higher quality product and owner receives significant scheduling benefits."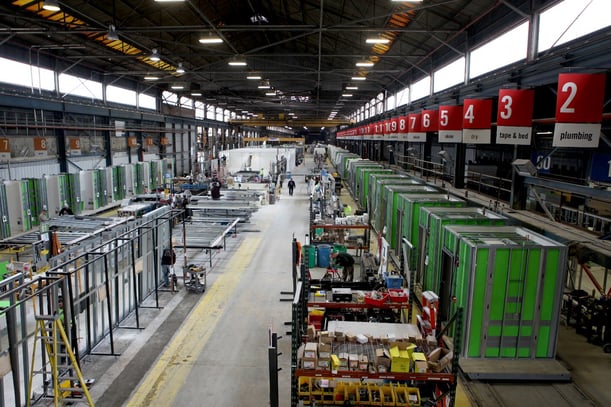 A glimpse at the controlled factory setting via bloxbuilt.com.
According to Giattina, the biggest misconceptions are low quality and limited choices.
"Prefab is the antithesis of low-quality; it's often twice the quality."
"When it comes to the choices, you have many; not an infinite amount, but hundreds. While it limits certain areas, it liberates others. As it simplifies the very normal operations, there's more time and resources for the team--when the team does not have to reinvent the wheel, they have more oxygen to spend on the issues that matter."
He compares the BLOX platform to Mr. Potato Head: the chassis is the standard body that you can plug in googly eyes or a mustache. DMC can be a subcomponent of the building or the whole building--with smaller facilities typically going for the latter, whereas acute care hospitals use the component approach to augment a traditional delivery.
Misconceptions also arise about cost. Giattina explained that manufacturing is less expensive at scale. As standard components are integrated into more and more hospitals, the cost per part drops quickly. One off components, still necessary at times, are often not cost effective. To gain the benefits of DMC, thinking of it as a connected system is critical.
The real savings potential lies in the efficiency of the process, which slashes schedules and leverages manufacturing scale.
"By using heavily vetted pieces as a chassis, I can expect my contractor to go further than they would have if they had to start at the beginning," Giattina said.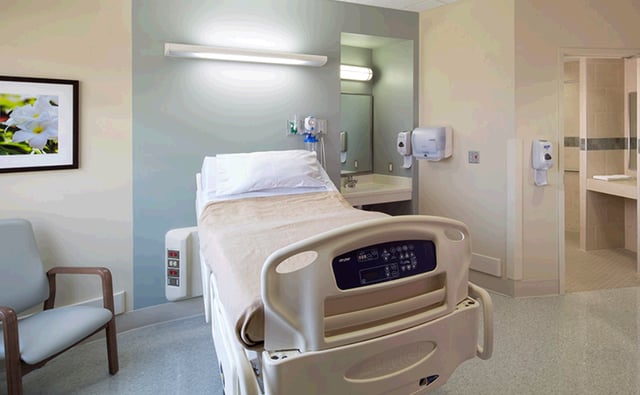 Installed patient room & toilet via bloxbuilt.com.
The Future of Prefab
DMC is built on a platform Giattina calls "2 x 2 x 2." By working in a factory setting with standard parts, the objective is to be twice as good as the standard metrics: twice as fast as the standard schedule and half the cost.
How is BLOX measuring up on its goal?
"It's a work in progress--in the beginning we made good components but integration wasn't there. Fast forward a few years and we're better across the board," he said. "Quality is increasingly digitally controlled and less prone to variation. Our speed is gaining momentum – with each application, another team learns how to further leverage DMC. Costs are dropping--.in the last 16 months we've seen a decrease in costs by 25%. Initial cost will continue to drop as a function of efficiency and volume."
Still, the real goal is not just less expensive parts, it is a reduction in total cost of occupancy.
"At a high-level, total cost combines two buckets typically separated in construction – cost and revenue. The decrease of the initial cost of the modules is important, but capturing revenue early really moves the needle."
While a typical schedule can be 11-13 months for a clinic or freestanding ER, using DMC allows you to complete such a project in 5-6 months (20-50% faster).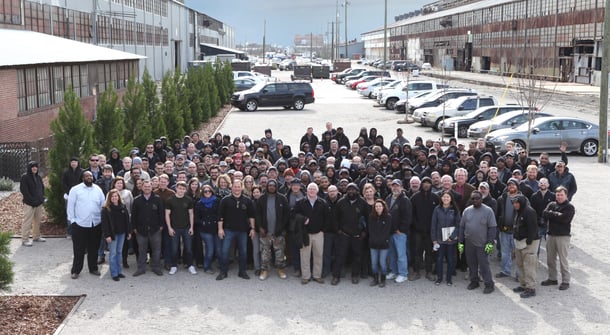 BLOX employees at the plant in Bessemer via bloxbuilt.com.
BLOX's rising demand indicates that DMC is the way of the future.
"Its changed planes, ships, cars, phones--virtually everything you touch. I see the demand increasing in general for healthcare because healthcare needs are continuing to expand," he said. "We're seeing very significant cost escalations where the highest payer is getting the trained workforce, that's predictable enough--what we'll see is other manufacturers spring up to fill that demand."
Though the market is still relatively young, manufacturing has the potential to disrupt the way health systems approach future construction and development.
For more on prefab's potential in healthcare, stay tuned for Giattina's upcoming talk at the HealthSpaces.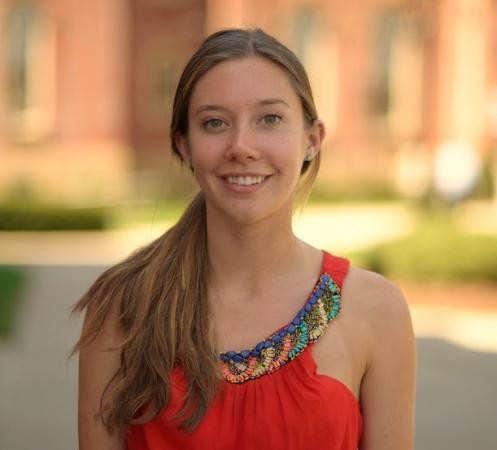 Posted by
Hannah Chenoweth is a writer for influence group. Passionate about collaborating with thought leaders in real estate, design, construction & facilities management.
Collaborate with your Peers!
HealthSpaces is a community for people that plan, design, build and operate spaces where healthcare is delivered.
Jun 12-14, 2022 | Louisville, KY
Learn More