At MetroHealth, Walter Jones is overseeing an ambitious $1 billion dollar revitalization of an aging three-million-square-foot main campus. Jones is no stranger to mega-projects; his most recent undertaking was the planning, design, and development of a brand-new $1.3 billion, 865-bed hospital for Parkland Health in Dallas, which opened its doors in 2015.
We spoke with Jones to learn how he's planning for future flexibility, the book that has influenced his leadership philosophy, and the ultimate vision for MetroHealth's ambitious Campus Transformation...
How did you get into healthcare design?
I really love what I do, but the idea that my career is some strategized series of events that I planned is false. It was really by happenstance. I went to Princeton for my undergrad and then Clemson for my master's in architecture. My career started off in Atlanta at several architecture firms where I became familiar with different building types; hospitality, sports venues, offices, and retail.
In 1990, I was caught in a reduction in force at the firm I was with and started looking at what was next. I fell into a comprehensive expansion that was happening at Grady Hospital.
"The complexity and constant change involved in healthcare design totally captured my attention."
The next project I went on to was for the Northside Hospital Women's Center. At the time, they had one of the largest hospital-by-birth volumes in the country, delivering 18,000 babies a year. That was a wonderful adventure that set the stage for the Parkland project, which also had a large birth component to it. They reached out to me in 2003 and hired me to guide the project, a brand-new $1.3 billion hospital, which was completed in 2014.
That shifted my perspective from being the architect and consultant to architect and owner. Then, the opportunity at MetroHealth came up, which is another replacement project, though by transformation this time. I consider myself very lucky; it's always interesting to get up in the morning and come to work. Our CEO sweetened the deal by giving me the title of SVP of Campus Transformation, by far the coolest title I've had. That's my journey in a nutshell--or probably more of a coconut shell!
What do you enjoy most about your current role?
You're always thinking of how to solve the same problems but in different ways; there's not necessarily a formula to boilerplate this work. You gain knowledge about design and facilities and the environment, but how that has to be created for the purpose of the organizations your with is always unique. It makes getting up each day worthwhile.
What is the ultimate vision of MetroHealth's Transformation when complete?
The Campus Transformation is changing how MetroHealth represents ourselves in the community we serve. Healthcare is always in flux and MetroHealth is extremely dynamic, so we never say we're necessarily finished or have reached an endpoint. It's just a springboard to the next thing.
The scope of this project is a new 10-story, 270-bed hospital and all of the supporting areas needed for that, including a new outpatient plaza, garages, and other buildings. We'll have a new central utility plant, connected to the Critical Care Pavilion that we just vertically expanded. We'll demolish the existing hospital once the new one is up and then create a lot of green space, going from 1-2 acres to roughly 25 acres.
This transformation is reimagining our main campus from looking like "a bunch of buildings" to a "hospital in a park." Our urban community currently doesn't have a recreational area like this, so the park will really become an amenity for the West Side.
For the new outpatient clinic, we're going to rebuild it into a much more efficient structure and increase our presence in the neighborhood. We've been criticized because the back of the building faces the street and looks like a barrier. This will become a front lawn entrance to the hospital to show we are here to embrace the community and benefit health and wellness in all its forms, including the development of the neighborhood.
How is this project looking to the future, in terms of doing things differently?
We are approaching the construction and design of this project with a focus on adjusting smoothly to an uncertain future. Construction is going to take five years, and so much can change in that time. There's no real way to project the future. The usual user groups we would interview are probably the least prepared to be able to predict this. I don't mean that in a bad way, but they're busy doing their jobs in the best way they can and are deep into the research needed to save lives. For me to come along and say, "So, how do you think that's going to look in five years?" is an impossible question from the get-go.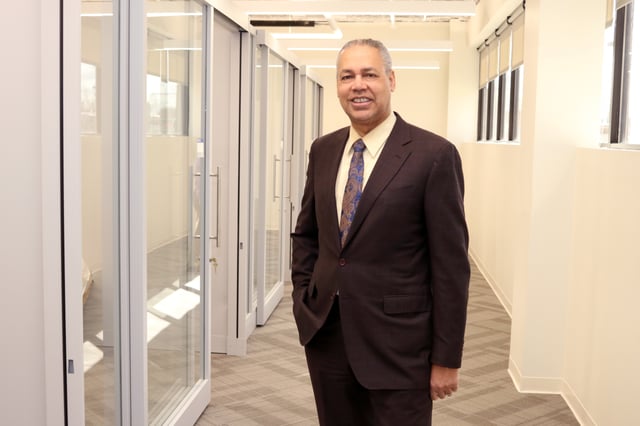 Therefore, we're designing a process-neutral building. We now design for the function of change and flexibility. The goal is for any operation to occur in the future without the building getting in the way. Think of a convention center or a warehouse. They're built to accommodate multiple, rapid changes to do their core function, however is necessary for that particular service or event. We want this hospital to be conceived of in the same way.
"We're using a lot of pieces and parts--this building will be assembled as much as it is constructed."
These hospitals stand for 50 years, and it's extremely challenging to make an investment like that, then tear it down and rebuild it. You can't do that every five years. The focus is to make this building as adaptable as possible, so it can survive the unforeseen operational needs long after its built, rather than become obsolete.
How do you maintain a big-picture vision, with so many moving parts?
There's lots of coffee, for one! But really, it's the team--I have to get out of their way. It's easy to get lost in the weeds, for sure. As an architect, I actually like the weeds, so I have to prioritize not pulling out pen and paper and drawing on their behalf.
My role is giving that executive guidance: "Here's how we want to approach the project and this is the goal." And I'm going to trust in the incredible skill and talent of the people we have hired, both in-house and outsourced, to work together and bring that to reality.
My job is less direct in terms of the actual design of the project (though I'm terribly interested in that), but more about how the project gets designed. My priority is to be clear and help my team stay on course and not get distracted by things that may not matter. I have to give permission for certain things to be relieved from their role, so they can really work to their best level.
What do you consider the greatest accomplishment of your career?
I don't know about the greatest accomplishment per se, but I can answer about when I perhaps felt happiest. I would say I was very happy with the way Parkland turned out. As a LEED Gold, 852-bed hospital, that's hard for me to beat. A lot of ideas my team had were incorporated into that project and we only had to make few compromises, so it brings a smile to my face when I think about it because we got a lot accomplished.
I'm looking forward to taking the lessons learned from there and doing it again here for this next expansion. The idea of a process-neutral approach is so fascinating. It's interesting to look at how we can create a working prototype that doesn't need to rely on the customary ways hospitals get thought about. We can talk more about that in five years!
What is the most important trait you look for when hiring new talent?
As you get past the skill and competency of the person, the question is, can you be effective in terms of getting decisions made? Can you be collaborative? That's what it takes to be truly successful.
I think the key thing is being able to enjoy communal success and the ability to work in a very broad team environment--you need to be able to get along with customers and everyone in between. You have to understand the complete solution, not just your part of that solution.
What is one book that has influenced your outlook on leadership?
I do a fair amount of reading, but one that stands out is one I read quite a while back called "Critical Confrontations." It helped me understand how you can approach people effectively about difficult conversations. You've got a job to do, so you can't just let things languish.
Here's the thing: I don't consider myself a necessarily confrontational person. What I liked is the book discussed how you can confront an issue without being "confrontational."
It taught me to stick to being deliberate and truthful about the core issue and try to keep the conversation direct without getting emotionally involved. You have to recognize that there can be emotional elements, but it's not so much personal as it is about behaviors. A lot of times a project goes astray because no one has mentioned the need to course-correct. That book has been incredibly helpful and always stuck with me.
What is your personal definition of success?
I think success is about letting other people grow in all the collective work that is being done. You can take someone who has a great talent and say, "Do that forever, every single day, go home, and come back and do it all again."
But my preference is having people do things that they love, but also have skill sets or talents that aren't necessarily in the job description. Let's use the whole person and let them grow. What are their real interests? Is there anything about what we're working on that gives the opportunity to grow that and use that skill?
When someone leaves the organization to take the next step, I'm happy for them and honored to have been a part of that growth. It's somewhat like raising your children--you want to see them grow and take on new challenges.
It's like the teaching hospital here: Part of the mission of the hospital besides delivering care is to train doctors and nurses. It's the same thing with our department. It's nice to build buildings and look back at what you created, but the other part is working with people and I find that to be a measure of success: how did you bring others along with you?
What is a secret talent that people would be surprised to learn you have?
I really like to cook! At one point, I played percussion--I don't do much of it anymore. Now, the drums seem a little too noisy and my wife wouldn't appreciate it too much, but I do really enjoy cooking. And my wife says she enjoys my cooking too!
When and where are you most happy?
I try and be happy all the time whether I'm at work or home! It's way more frustrating not to be happy.
I have three great kids in their 20s who make me very happy; it's a really interesting time to be a parent. I love answering their questions as they're becoming curious about things that are new to them that I've been through. I give my advice and they're like, "Yeah right, Dad!" They think they know better than I do, and then I just sit and wait for the call. They come back a little more grounded and say, "Okay, let's talk." It's a bit of evil joy! But it does spur a lot of great conversations. It's an interesting transition, a changing role from a parent to an advisor.
Looking out at the next 15-20 years, how do you believe changes in healthcare delivery are going to impact facilities?
There's truly no telling, which goes back to the need for a process-neutral approach. The Parkland project is a good example to understand the speed of change and the caliber of the task of dealing with it. We got the funding for the project in 2008 after two years of in-depth planning, and patients weren't taken in until 2015.
But here's the thing: in June 2007, the first iPhone hit the U.S. market. So just in the one year before we got the funding for a $1.2 billion dollar hospital, there was no sense at all about the impact of how that device was going to permeate everything.
We're essentially always building facilities that are based on dated information. We broke ground on the project in 2010, and that's the year the iPad was introduced. By the time the project finished, most of the onsite supervisors had iPads in hand to help them. The construction industry adapted really quick, and healthcare did the same thing. So 15-20 years is a super long time to think about what's going to be different.
We're building a replacement parking garage right now in the first phase of the project, but it could very well be obsolete by the time the project is done in 2022. We have a Patient Experience Advisory committee who have all started their sentences by talking about their arrival at the front door. But in 2022, that sentence might be: "My car dropped me off at the front entrance." We don't have anything in our plans right now about the impact if that situation becomes commonplace, which Tesla thinks it will.
People aren't going to stop getting sick, but the nature of the care and type of experience is going to continue to change. Facilities will likely be far more comfortable. One of the things we're really focused on with that process-neutral design is what the experience is for patients and families. There will still be people who need to come to the hospital, though more care will come into the home through technology. A doctor's visit could be on your smart TV because your phone has apps that are tracking your health. There are virtual care centers already that are doing that. So, 15-20 years from now will just be amazing compared to anything we have today...just thinking about it is exciting.
---
Know a noteworthy facilities exec that we should feature in the Leadership Series? Feel free to drop us a line at HealthSpaces@influencegrp.com.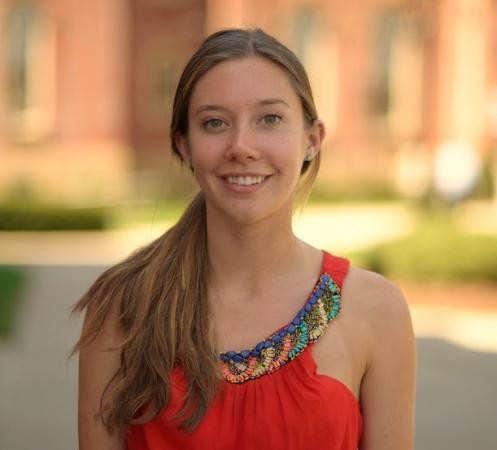 Posted by
Hannah Chenoweth is a writer for influence group. Passionate about collaborating with thought leaders in real estate, design, construction & facilities management.
Collaborate with your Peers!
HealthSpaces is a community for people that plan, design, build and operate spaces where healthcare is delivered.
Jun 11-13, 2023 | Frisco, TX
Learn More