In 2012, the Michigan Medicine facilities team was charged with the task of incorporating and implementing "Lean Design" principles into their projects.
Bob Harris, Director of Facilities Planning & Development, and his team—including Christine Baker, Senior Project Manager—set out to learn what "Lean Design" was, and began embarking on several new projects following these principles, the largest of which is the ongoing clinical pathology renovation and relocation project. Six years into this project (with four more to go), Harris and Baker shared the lessons they've learned with HealthSpaces.
Lean Methodology
At the time they first began implementing Lean, Harris said, it was still a pretty novel concept. An important thing to know about Lean is that it's a mindset, not just a process. "Form follows function," Harris explained. The form is the building itself, and the function is the clinical patient care and all of the processes to support it. Lean seeks to achieve the most efficient, innovative, and flexible spaces; drives the design from the process flow; and works to eliminate waste.
"Oftentimes the traditional design process doesn't get us what we want," said Harris, referencing how so often the feedback from the end users after a project is completed is disappointment.
"Traditional design does not often include user feedback about improving their process flow," he said. Lean Design incorporates multiple stages of end user feedback to ensure that the space they end up with is the space they want, which even they don't fully understand until they see for themselves how their process flow will work within it.
Lean draws upon three different "toolboxes" to capture end user feedback, and utilizes several different methods to assist them in really envisioning a space. Through interactive processes around conceptual design, schematic design, and design development, users at all levels are engaged in the design process.
"I can't stress to you how important it is to sit down with your staff. They're going to say, 'I know what I want. I know what my work is.' But taking the time with an experienced Lean Facility Design facilitator asking questions and documenting what they say is an eye-opening experience," Harris said. "It is a really fundamental component to get started and really outline what their work really is."
So, how is this done? There are several different methods, all of which Michigan Medicine utilized in their planning.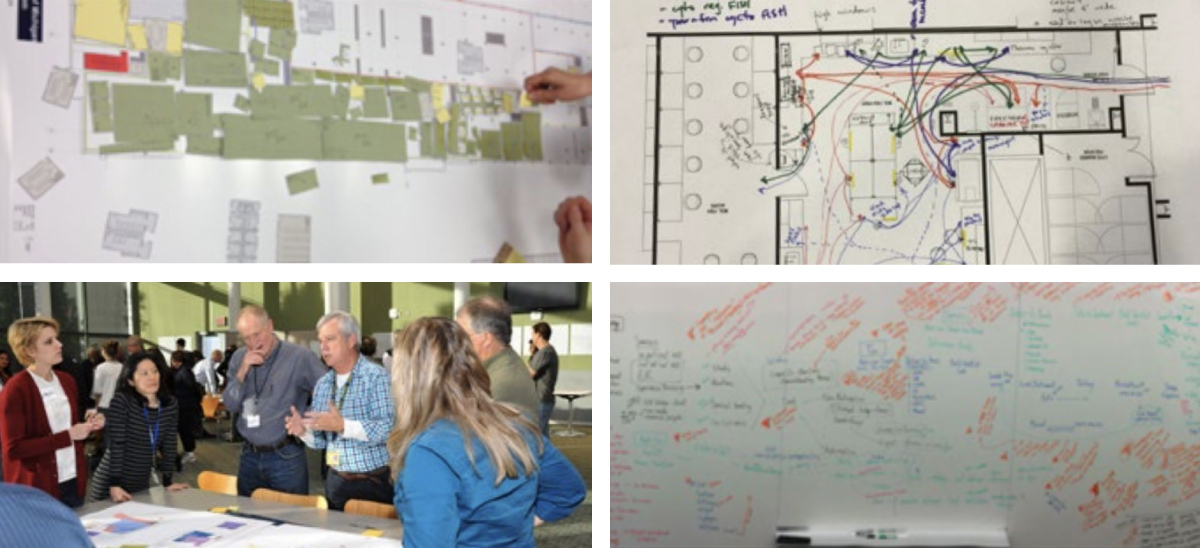 Multi-day workshops: These involve a lot of cross-sectional departments, including everyone from frontline staff to janitors, housekeeping, and food delivery. People from all departments are represented in these multi-day workshops and are split up into tables with someone from each team represented at each table, all working on existing and future state mapping together for cross-departmental pollination.



Paper dolls: These are used to lay out the space and review the flow. This is an important stage because it's the first time the square footages of the departments are laid out and they can see how much space they are allotted.



Spaghetti charts: This is where design is literally measured in steps. Spaghetti charts lay out the space in more detail and document flow of work processes and patients where groups can see where congestion is occurring and how they can increase the efficiency of the space.



Video capture: It's one thing for people to talk about what they think their workflow issues are; it's another thing to actually see it. By recording a full eight-hour workday, Harris and his team could talk through the observable workflow issues with the staff. As a result, congestion points were directly addressed in the project design.



3D Cave/Virtual reality: This is a unique process to Michigan Medicine simply because they have the technology for it—a 3D virtual reality "cave" that allows users to "see" and interact with the space. Accurate spatial relationships and height dimensions are all programmed in, so users are fully immersed in a virtual rendering of their future space. This is an early step that happens before mockups because it helps to reduce the number of changes to the physical mockups.



Mockups: Using a combination of cardboard, plywood, and other materials, they physically "mock up" the design so users can actually walk through, touch, engage with, and experience how the space will actually function. At the end of each day of the mockup phase, the design team modifies the mockup based on the feedback from the staff, and then brings them back in again the next day. Even at this point after being run through "The Cave," there are still significant changes made.
The mockups are a very time-consuming and costly part of the process, but they are also critical. Even after all of the simulations, after which everyone thought they thought they knew exactly what they wanted, inevitably significant changes still happened during the mockup process. During the mock trial, participants were getting paid but giving up their patient care and lab duties while other staff members filled in for them, which makes these trials very costly in labor alone. But these are the people actually doing the work and using the space—an institution can't afford not to do it.
"It's an incredible time commitment for our care providers. It's an incredible commitment for the institutions," Harris said. "These investments for a large-scale project run in the millions of dollars, but people tend to forget that 'building' buildings is only approximately 10 percent of the lifecycle cost of the facility. So when the University of Michigan Health system approved a $1 billion project, we're making a $10 billion commitment over the next 50 years. Spending a few million dollars now is money well spent, I can promise you that."
It's important to get it right the first time, he emphasized. "I can assure you that what we build won't be perfect, but it will be a whole lot more perfect than what we would have built if we hadn't gone through that process."
Since they started implementing Lean Design at Michigan Medical, Harris said they're seen a significant reduction in change orders and building sizes were reduced up to 20 percent just by using the tools in the Lean toolboxes.
"Lean" Also Means Adaptable
One goal of the clinical pathology relocation and renovation project was to combine groups and labs that perform similar functions into the same spaces. While their work may be similar, this still meant blending the different cultures and workflow habits of different teams. From the specimen processing area to the faculty office suite, the microbiology labs and the molecular labs, teams that had been separated by different buildings, sometimes by miles, were all combined together into collaborative, flexible work spaces. For the faculty office suite alone, Harris's team incorporated 172 pieces of feedback from a built prototype into the final design.
Now, clinicians, faculty, and staff at Michigan Medicine have become so accustomed to the concept of mockups that other departments are experiencing FOMO.
"We actually have departments starting to complain that they do not get to go through this whole process because they've seen the value add to doing it," Harris said.
When his team needed to add another group into the newly completed laboratory space that hadn't been included in the original plan, the group begged them to do a mockup. Time didn't allow for it, but, Baker noted, "it showed the cultural shift — they were coming to us and begging for mockups in the design process so they could really envision the space."
Because they had built all the spaces to be flexible, they were able to move this additional lab team in not even a year after moving in the others. They were able to move around components of the lab and even utilities so the space could absorb this added group. "We really viewed that as a success, not only of the team coming together and shaping their workflow around this new space, but the facility being able to support such a substantial change so quickly after we moved in," Baker said.
"Avoid monuments at all costs. This is a fantastic example," Harris added. "Through all the things we did, they still thought after the fact about that 'ah-ha' moment. This space will be adapting and changing in a few more years because of technology, so the more you can provide flexibility in what you provide, both in the furniture and products you select and the design layout, the better off your institution will be."
Lean Lessons Learned
One of the big things Michigan Medicine learned by going through the Lean Design process was to "test, test, test, re-test, fail, and test again," said Harris. "You can't go through this enough times."
He also said that it's very important to prepare people for cultural change. He and Baker both recalled the summer of 2018, when all 500 people moving into a new site "had a meltdown." Being in a new atmosphere, changing the structure of their days, even having to park in a different spot and change their walking route was very disruptive to the staff.
"Make sure you can get the work processing modifications implemented before you physically make the move, or you simulate them well in advance of the actual move," Harris said. "That is unbelievably critical. No matter how perfect this space is, it still has a human element to it. This was a major, major learning curve."
Leveraging an emerging leader from each team to help guide them through the transition was also a helpful strategy, Baker and Harris said. Another thing to be aware of is when a team is being too quiet. "No problem is a problem, we learned," Harris said. "Now we're careful to really check in with each group that's moving, and if we're not hearing from a group at all we assume that there's a problem and engage with them more directly."
Harris said the key takeaways from his own experience with Lean Design are:
Use the Lean toolboxes and do all of the work around the existing and future states;

Do not underestimate the cultural change aspects involved in implementing these projects;

Simulate, fail, re-fail, and build in plenty of flexibility.
"We hear so much about technology and IoT, but healthcare is still about people," Harris said. "This process will help create the ideal patient care experience and the outcomes that we all expect when we go to the hospital."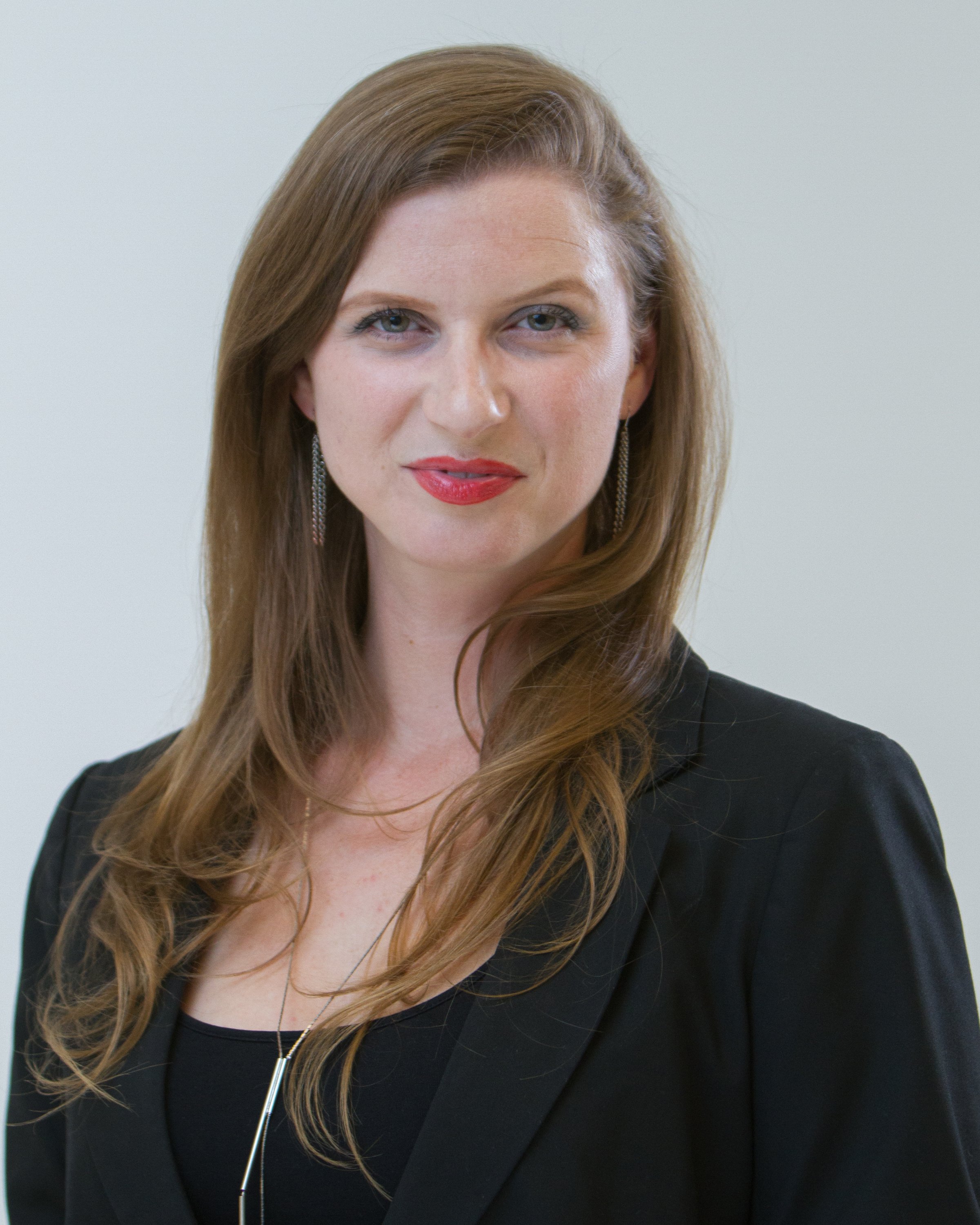 Posted by
Nicole Rupersburg is a content and conference producer for influence group focused on education healthcare and hospitality. She also is a frequent freelance writer covering food, travel, arts, culture, and what-have-you.
Collaborate with your Peers!
HealthSpaces is a community for people that plan, design, build and operate spaces where healthcare is delivered.
Jun 11-13, 2023 | Frisco, TX
Learn More