The sheer volume of data produced by US hospitals is more than a little daunting. With over 200 IT systems on the clinical side alone, the typical hospital generates upwards of 50 petabytes of data per year. But that's not to say the typical hospital uses 50 petabytes of data per year.
According to Brendon Buckley, Senior Director of Healthcare Technology for Johnson Controls, most organizations use roughly three percent of that figure. And they pay a pretty penny for it: electronic medical records, building automation, nurse call tech…the bills add up.
"All these systems are very expensive," he said during a talk at HealthSpaces. "So why not tweak some additional value out of them?"
Extracting that value takes a good deal of metaphorical elbow grease – and, for better or worse, a few sit-downs with your IT department – but the results can be transformative for patients, practitioners, and pretty much every other healthcare stakeholder. As Buckley explained, a little data can go a long, long way. If you know how to use it.
What Data Do Hospitals Have, Exactly?
Focusing on clinical data alone, Buckley unpacked exactly what the average hospital knows about its patients, care teams, and physical environments.
When it comes to patients, hospitals know where they are; their acuity level; their diagnosis; their vitals and allergies; what treatments and medications they're receiving; who their assigned staff are; whether they've had any recent visitors; what their fall risk is, and what interventions are in place for that risk; and even what they're doing in their room at a given moment, like sleeping or watching television.
As for care teams, hospitals have precise insights into each practitioner's location at a given moment; what patients they're assigned to; where their rounds have taken them so far; what assets they're leveraging; and how much time they spend not leveraging assets, possibly because they're too busy searching for the right tool. "Are they in the right spot, or are they walking an extra 50-100 feet trying to find equipment?" Buckley asked. "Twenty percent of the time nurses spend is looking for stuff."
Then there's the physical space. Modern facilities enjoy detailed, real-time pictures of each patient room, including who's in it; what staff are assigned to its occupants, and whether they're with the occupants at a given moment; whether any visitors are present, or scheduled to attend; when the room was last cleaned; and the temperature, lighting, and noise levels.
"What can we learn from just a little bit of data? The answer is a lot," Buckley said.
Putting Data to Work
To make use of these insights, you'll have to pull them from various disparate systems and normalize the data into a usable form. (This is where the sit-downs with IT become especially important.) Then the fun really begins.
Everything that we can do with that data is absolutely critical.
"With that data we're able to deliver enhanced patient care," Buckley said. "We're able to provide a safer patient environment from a security perspective, from a fall risk perspective, and make a more comfortable healing patient experience. Also, you can start to impact things like staff retention – if it's a better environment to work in, chances are you might hold on to your staff longer… Everything that we can do with that is absolutely critical."
Drilling even further into the data, Buckley proposed a few tantalizing potential use cases. A big one: sleep. Using video monitoring and/or wearables to determine when patients are asleep, hospitals can take a number of steps to give them the best sleep possible – no easy feat, given the setting – from lowering the temperature (thereby stimulating melatonin production) to automatically halting meal delivery and work order tickets for their room.
In a similar vein, sensors can identify when a patient who is at risk for falls is trying to get out of her bed, perhaps activating an automated message asking her to stay in place until a nurse arrives. "Let's try to get them before they get out of the bed," Buckley said. "Chances are they're going to the bathroom, and chances are, statistically, it's at night. It's dark. So something as simple as turning on the lights and letting them know that somebody's on their way is a big win."
Think Big (Data)
Real-time environmental monitoring has myriad other implications, both for health and safety – ensuring isolation rooms remain at negative pressure, triggering evacuations when noxious gasses are detected – and for facilities management: when you know a room is empty, you can automatically lower the temperature and turn off the lights, driving down energy costs.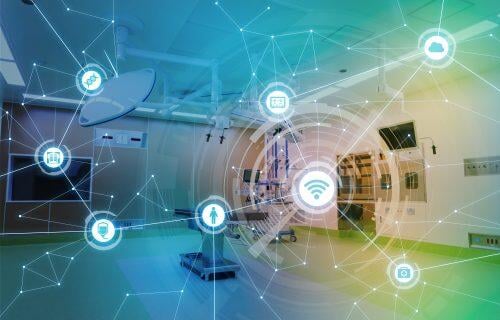 Smart Hospital Room - Getty Images
From a planning standpoint, hospitals can plug their data into their digital twin, running all manner of simulations: staffing models, space planning, load planning…the list goes on. "If I'm switching a ward over to a pandemic, or if I change the acuity level, what does that do from the space, HVAC, and IT perspective? What does that do from a staffing perspective?" Buckley asked. "Think about being able to predict all that."
In closing, Buckley reiterated the importance of sitting down with your IT department to create a value map of your data, identify key outcomes and KPIs, and work with other departments and external partners to develop and execute a plan. While he advised starting small, with proofs of concept and "bite-sized pieces," he also stressed the need to think big. "What problems could we solve?" he asked. "Be aspirational about what you could actually do with that data."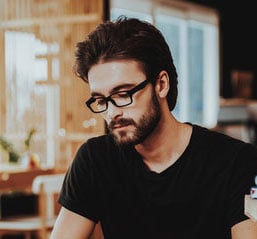 Posted by
Steve Manning is a journalist based in Idaho. When he's not writing, he can usually be found at the theater or taking his dog on a hike. If he could only go to one restaurant for the rest of his life, it would be Al's Place in San Francisco.
Collaborate with your Peers!
HealthSpaces is a community for people that plan, design, build and operate spaces where healthcare is delivered.
Jun 12-14, 2022 | Louisville, KY
Learn More