The future of healthcare facilities will be the product of a delicate balancing act, with industry leaders juggling organizational objectives, employee satisfaction, and the needs and capacities of their buildings — all three of which are inextricably connected, for better and for worse.
As a group of healthcare real estate, design and construction veterans discussed at HealthSpaces '23, that future looks a lot like the present. Moderated by Distech Controls' Renée Jacobs, the conversation included Doug Carney, SVP of Real Estate, Planning, Design, Construction and Engineering at Mount Sinai Health System; Clint Russell, VP of Capital Deployment, Construction & Equipment at HCA; and Charles Shelburne, VP of Real Estate & Campus Planning at Baylor Scott & White.
Their wide-ranging chat touched on how they've adapted to new work paradigms, what it takes to future-proof healthcare facilities, the role of AI in development and construction, and more.
Adapting to Adaptability
Reflecting on the lasting impacts of the pandemic, Shelburne and Carney lamented the challenges of maintaining occupancy in the age of hybrid work. A few years before the pandemic, Baylor started building a 500,000-square-foot administrative facility, with massive open floor plans designed for collaboration. When it opened in August 2020, conditions weren't exactly conducive to that purpose. Today it sits at roughly 33% occupancy, and Shelburne's team is figuring out how to repurpose it as a multi-tenant space, likely in partnership with educational groups on Baylor's academic side.
Carney described a similar experience at Mount Sinai, where his team opened what he described as "the nirvana of open office space" just in time for the pandemic. Now, occupancy on peak days ranges from five percent to 60 percent.
While he expects to be able to move into a smaller space that — even with the penalty for breaking the current lease — will save money, Carney argued that the problem isn't just about real estate. It's also about retaining employees who have grown accustomed to the flexible work era. This is especially true in Manhattan, where not having to commute for three hours every day is a significant quality-of-life improvement. At the same time, it poses a challenge to workplace leaders.
"How do you drive culture when people aren't physically there to do it?" Carney asked. "The sentiment in the employees appears to be that they want it. How do we leverage that to make the office something that they want to come to?"
Based on the employee engagement surveys his team has conducted, Carney suspects that the answer lies in new management styles. It will likely take some time, however, to figure out the best approaches.
"I don't know how to do performance appraisals for somebody I see once a week," he observed. "It's an interesting time. I think there's a real potential for savings, but there's also a tremendous opportunity to create a stronger engagement with your employees."
Building a Universal Future
Like their administrative counterparts, the next generation of clinical spaces will also revolve around adaptability. Baylor is preparing for this future by creating universal rooms — in essence, ICU rooms with mid-board private restrooms — that in turn form adaptable units, the purposes of which can evolve with broader trends.
"When we create universal rooms, we're creating universal units," Shelburne said. "That unit can be an ICU, and then in two years it may be med-surg or it might be intermediate care, all depending on the volume coming in and the patient type. So it's gone away from just this one single room that gives you ultimate flexibility — the patient never has to leave — to a more efficient staffed model that you can then fluctuate as your demand needs. Not on a day-to-day basis, but on a year-to-year basis."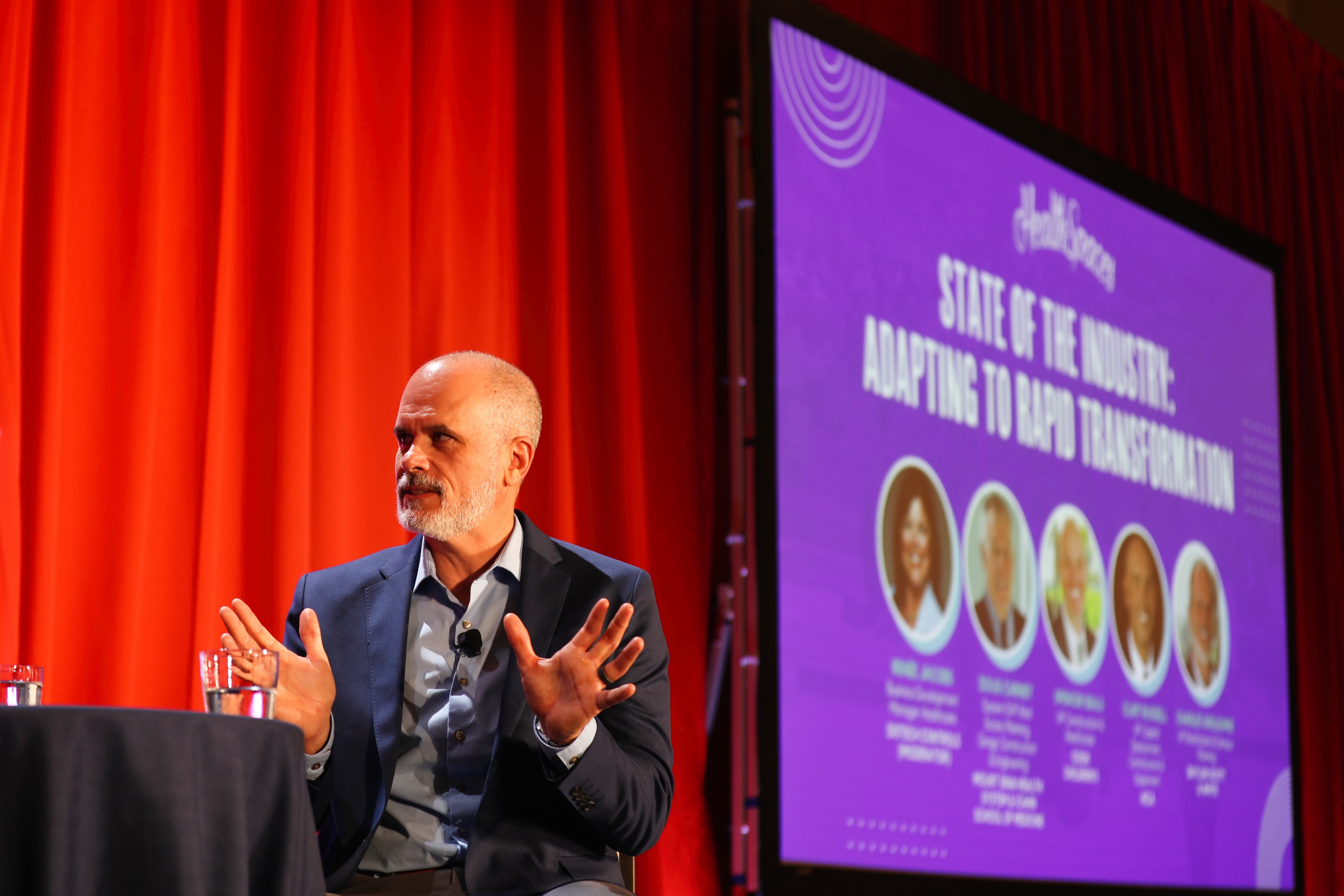 Zooming out, Shelburne explained that Baylor's new facilities will be designed for change as well. "They're all going to be very beautiful, but very simple rectangles," he said. While this may not be the most aesthetically interesting design choice, he argued that it will future-proof Baylor for whatever comes. "It creates an efficiency that we can then flex for patient care, we can flex for procedural space."
He described the concept as "shelling" a space rather than building it out, creating the means for flexibility down the road. "Be creative," he said, "but also keep it simple with what we know works."
Carney echoed Shelburne's point. Drawing on his experience designing a patient tower at the Children's Hospital of Pennsylvania, he made a case for the importance of simplicity over complexity.
"This is not rocket science, right?" he said. "Make that durable shell that's going to last a hundred years, and then let the equipment change and surge, and create the framework that supports that."
Embracing Artificial Intelligence
On the construction side, Russell extolled the potential for artificial intelligence to streamline efficiencies and reduce costs. Last year, HCA started working with Doxel, an AI tool that uses hard hat-mounted cameras to compare a project's progress against its schedule and model. While Russell's superintendents were initially resistant to the idea, they discovered that it gave them vital insight in disputes with subcontractors.
"Imagine you're in a subcontractor meeting," he explained, "and you've got a sub that says, 'I'm 50% complete.' Now you can say, 'Not only are you not 50% complete, you're 35% complete. It's taken you longer than you said it would, and you've used more people already, so we've got to talk about a plan to get you back on track.'"
The software also helps offsite leadership track progress, which in turn allows for more accurate billing. Looking forward, Russell hopes that it will help HCA measure prefab construction projects volumetrically rather than by man-hours moved offsite. He also expects it might offer a leg up when it comes to procurement.
"If we have this software that's telling us exactly how much material is being used in our hospitals and in our projects," he said, "it gives us a lot more leverage to understand how much we're buying every year the next time that we go to negotiations."
Moving in the Right Direction
Healthcare systems face increasing pressure to meet ESG and decarbonization goals. Meeting these goals, the panelists argued, requires bold and creative thinking — and perhaps some acknowledgment that they might not be able to achieve 100% of them in the near-term.
HCA's ESG initiatives, for instance, include a 95% recycling target for its construction projects. As Russell explained, this is very much a "stretch goal" that heavily depends on whether local infrastructure can handle large amounts of debris.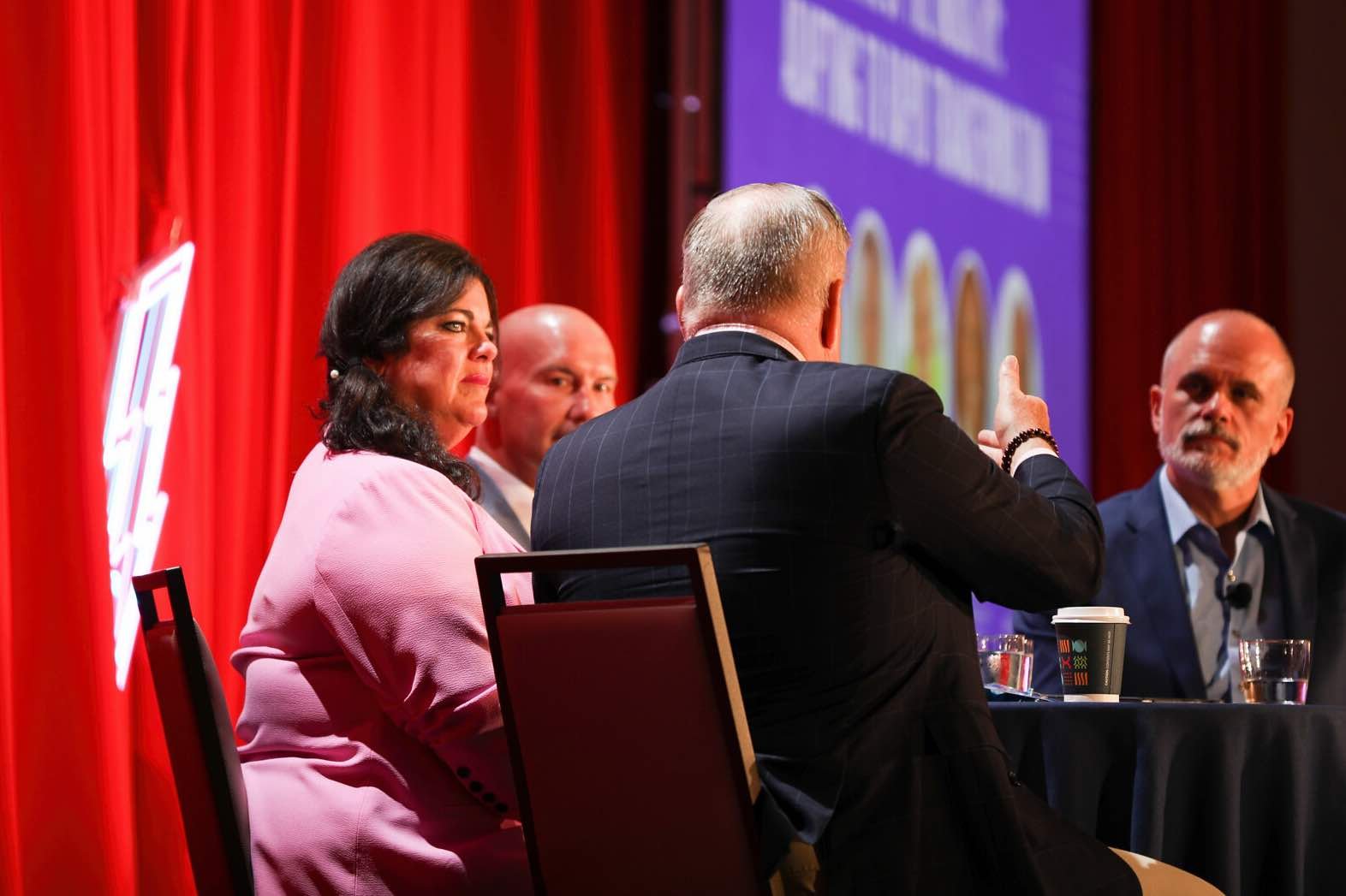 "We infrequently hit 95 percent," he said. "We hover somewhere between 60 and 70% each year, and I don't think that we would've gotten there if we hadn't put that stretch goal out there."
Carney described similar challenges when it comes to decarbonization. Acknowledging the importance of recent legislative efforts surrounding electrification, he argued that it often just isn't physically possible to tie medical systems to electric grids, especially in the Northeast. And while organizations may be able to comply with the letter of recent laws by purchasing renewable energy certificates, "buying a new REC in Florida doesn't really solve the microclimate in New York."
In his view, the solution might lie in treating healthcare facilities as a unique occupancy. "Let's do a 20 year carveout for hospitals," he proposed. "Let us do CHP plants for 20 years — I can amortize the cost of a CHP plant over 20 years; it's the cleanest technology we have today — and then make me guarantee that I'll take it out in 20 years. That isn't going to solve the problem, but at the end of the day, it solves the reliability issue, it improves the grid, and moves us in the right direction."
"I'm a football guy," Carney concluded. "Remember what Vince Lombardi said: 'If you always get three yards on every play, you're going to score every time you have the ball.' So let's move it down the field."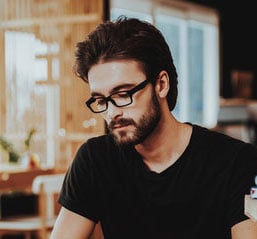 Posted by
Steve Manning is a journalist based in Idaho. When he's not writing, he can usually be found at the theater or taking his dog on a hike. If he could only go to one restaurant for the rest of his life, it would be Al's Place in San Francisco.
Collaborate with your Peers!
HealthSpaces is a community for people that plan, design, build and operate spaces where healthcare is delivered.
June 2-4, 2024 | Scottsdale, AZ
Learn More