Gil Manalo believes the construction industry is stuck in a rut. For all their advantages, traditional methods have lately been dragging projects down. Buildings behind schedule, costs skyrocketing, stakeholders on all sides left disappointed — the status quo just isn't working.
That's why Manalo and his team at Medxcel are trying to make prefabricated and modular construction the new norm. As the healthcare facilities services provider's National Director of Construction Programs, he's gained deep insights into the approach, including its potential to save considerable time and money while delivering higher-quality buildings.
In a presentation at HealthSpaces, Manalo gave an owner's perspective on what a successful prefab/modular strategy looks like and what health systems need to keep in mind as they create their own.


Capability, Capacity, Maturity
Early in his presentation, Manalo outlined three primary concerns for owners embarking on prefab and modular projects:
Capability.
As you search for a construction partner, he argued, ask whether your prospects have the capability to achieve your goals; whether they have the relevant industry knowledge; and what their recent projects look like, especially those in healthcare.
Capacity.
Prefab and modular projects involve significant production and logistics challenges: do your potential partners have what it takes to manage them?
"They may have the capability, but if they don't have the capacity, they're very limited," Manalo said.
Maturity.
A successful project depends not only on experienced staff, but also on established relationships with vendors across the supply chain, as well as local labor resources.
"As much as you want to bring in labor from outside of town, it's great to always utilize the folks that are in town," he advised.
As organizations develop prefab/modular strategies, they'll also have to decide between project and program approaches. This may not be a difficult decision: the former will generally be appropriate for large, complex facilities like hospitals, while the latter will make more sense for smaller ones.
"For Medxcel, we have a lot of smaller projects — ambulatory surgical centers, free-standing EDs, MOBs — that we look at as more of a program," Manalo said. He added that Medxcel recently hired a full-time employee responsible for looking at the company's next three years of projects, identifying items that could be developed into a prefab "kit of parts."
"How many MEP systems, how many walls, how many headwalls, how many ceilings — the list goes on," he said. "We can look at it as a program, and this is how much we want to spend early on these projects for this year, versus the one-off projects that you do."
"[With supply chain delays], now we have to start planning for projects that aren't even going to start until the next fiscal year. Prefab and modular allows you to identify what you need to buy very early on."

A robust prefab/modular strategy should also take into account the state of the supply chain, with material delays calling for more planning ahead than companies may be used to.
"I used to think that three to four months was a long time; now we have to start planning for projects that aren't even going to start until the next fiscal year," Manalo said. "Prefab and modular allows you to identify what you need to buy very early on."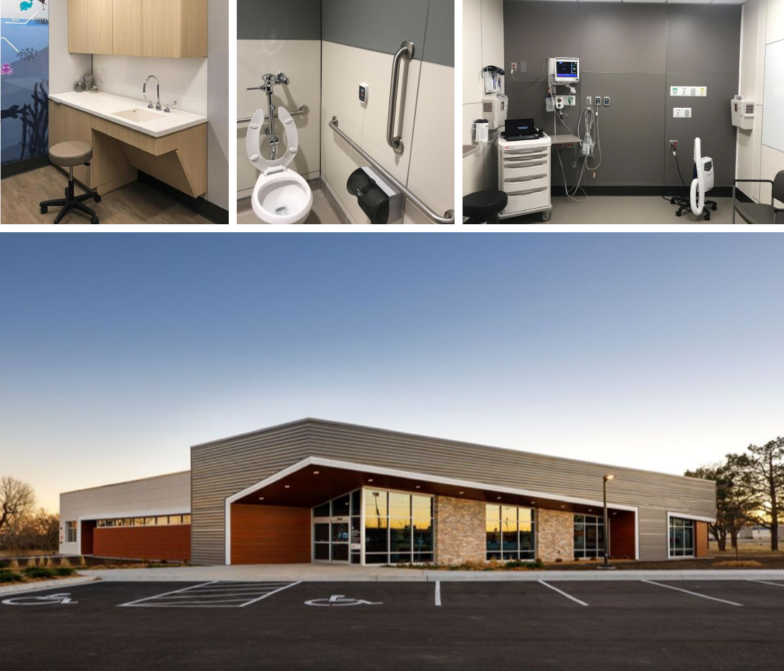 Kansas Project
Building for Long-Term Success
In prefab/modular strategies, as in life, lasting relationships make everything easier. That's why Manalo recommends engaging with partners at the portfolio level, keeping an eye on the long-term rather than the transactional.
"We really want to create that relationship with partners on the design side, the GC side, and the vendor/supplier side," he said. "We want to make these relationships long-term because it creates a much more efficient and faster acquisition process when it comes to our facilities."
By building attractive perks into its contracts — like incentives for finishing early and coming over budget — Medxcel makes these relationships fruitful for both parties.
One final key component of a successful prefab/modular strategy is getting stakeholders aligned on intent, design, and construction at the very beginning of the process. While many owners may be unaccustomed to dictating construction methods, disruptive strategies require a more hands-on approach.
"Make sure everybody, at the start of the project, knows we need to follow this type of strategy to get our project on time and on budget," Manalo said. "Let them know this is the plan and this is how these pieces are going to be assembled. These are the elements of construction that need to be completed prior to; this is what's going to happen when we bring the pieces in and this is what's going to happen afterward. It is like conducting an orchestra when it comes to bringing modular pieces into the construction mix."
"The Expected Savings Far Outweighed the Cost"
What considerations should owners focus on as they weigh a prefab/modular approach? For Manalo, the most important is cost. While the materials themselves may not be cheaper, they have the potential to unlock massive savings when it comes to a project's schedule.
"The fact that you can reduce the schedule, compress it, shorten that critical path — that impacts costs," he explained. "That's less general conditions you have to pay if you can get your general contractor off the site earlier."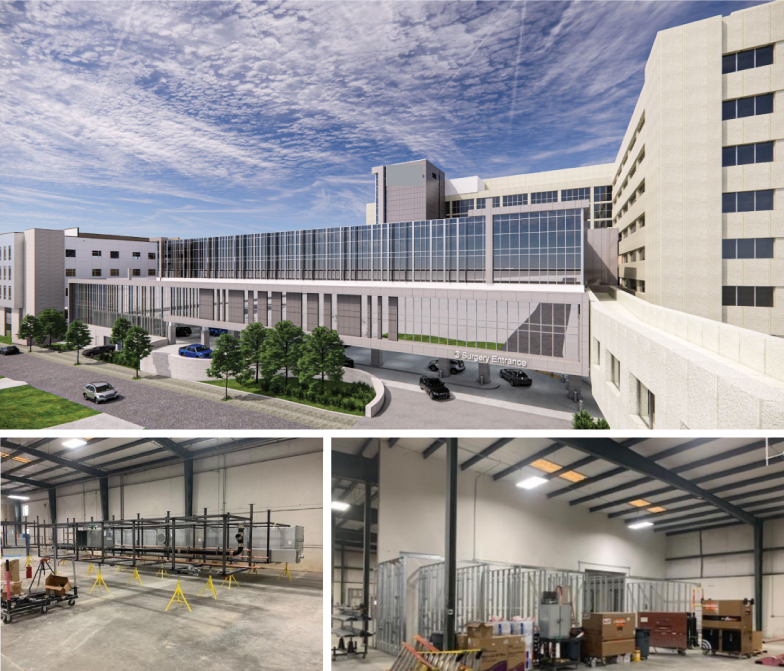 Nashville Expansion Project
In one of Medxcel's recent projects, a major acute facility expansion in Nashville, the ability to run parallel processes ultimately cut the timeline by two months, saving about $650,000. In this case, roughly five percent of the materials were prefab — operating room ceilings, MEP racks, and headwalls — assembled in an offsite warehouse leased by Medxcel.
"Productivity, standardization, and consistency, that all goes with creating an environment that is reliable and repeatable. That's what prefab & modular help you do."

"The expected savings far outweighed the cost of the lease," Manalo noted. "Then you throw on the fact that you can start generating revenue two months earlier than the hospital leadership had planned; it was a no-brainer to go this route."
An offsite prefab facility is essential to parallel processes and cost reduction. It's also essential to safety — by placing workers in a tightly regulated indoor environment — and to quality, by making it easier to catch manufacturing mistakes and reduce waste.
"As soon as you get three prototypes done, you should pretty much be able to repeat that over and over again with a high degree of accuracy," Manalo said. "Productivity, standardization, and consistency, that all goes with creating an environment that is reliable and repeatable. And that's what prefab and modular help you do."
As he wrapped up his talk, Manalo encouraged organizations to hold brainstorming sessions at the very beginning of project planning to determine whether modular/prefab might be the right route. He stressed the need to build strong relationships with local labor resources and the value of looping in local authorities, who may be able to provide valuable guidance as well.
"Ask, listen, learn, adjust, repeat," he concluded. "We all learn from all these experiences."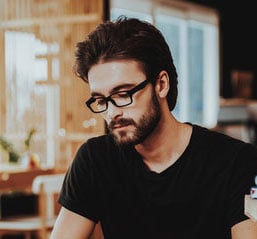 Posted by
Steve Manning is a journalist based in Idaho. When he's not writing, he can usually be found at the theater or taking his dog on a hike. If he could only go to one restaurant for the rest of his life, it would be Al's Place in San Francisco.
Collaborate with your Peers!
HealthSpaces is a community for people that plan, design, build and operate spaces where healthcare is delivered.
June 2-4, 2024 | Scottsdale, AZ
Learn More