Generational differences have a profound impact in just about all aspects of modern life, from consumer behavior and buying trends to workplace behavior and the work environment. It should come as no surprise, then, that generational differences are also impacting healthcare.
The customer experience strategy & design firm WD Partners released a white paper called Healthcare: Who Survives? Serving Customers on Their Terms, which looks specifically at routine, everyday healthcare in non-acute settings (i.e., outside of the hospital).
Dan Stanek, Executive Vice President of WD Partners, shared their findings with HealthSpaces.
Primary Care is Becoming Secondary for Younger People
For this research, WD Partners conducted an online study of 2,600 consumers across all age groups, genders, and ethnicities to understand how they make decisions about what they want from everyday healthcare. They focused on three primary service offerings—primary care, urgent care, and retail clinics—to examine how people are making decisions about alternatives to primary care.
"We know that the family doctor is really an everyday healthcare institution in America, yet there are a lot of challenges around this primary care/family doctor relationship," Stanek said. These challenges include a shortage of primary care doctors; lack of appointment availability (it takes an average of 17 to 21 days to get an appointment); high out-of-pocket costs; and new competitors in alternative spaces like urgent care and retail clinics.
The survey started off by asking respondents what healthcare platforms they considered for routine healthcare needs in the last six months. Primary care is still the dominant platform with 86 percent of all consumers considering a primary care doctor, but 42 percent also considered urgent care and 18 percent considered a retail clinic. This is quite a substantial upsurge, considering there are more than 32 times as many primary care doctors as there are urgent care clinics in the U.S. (246,000 compared to 7,600), and more than 82 times as many primary care practitioners as there are retail clinics (246,000 and 3,000, respectively).
The top reasons respondents listed for considering one platform over another showed a radical difference in what different respondents were looking for. Those mostly considering primary care physicians were driven by insurance coverage, perceived quality of care, and having a relationship with the healthcare staff. Those looking at urgent care and retail clinics, however, were driven by convenience and what they see as a quick, easy, and fast alternative to primary care.
And this is where the generational divide really starts to manifest. "The biggest threat to primary care today that we see emerging is really a generational divide," Stanek said. Younger customers are far less loyal to primary care physicians. They don't have a personal relationship with their primary care providers, and while, yes, that's largely because they're younger—they're not in chronic care situations and they simply don't have as many healthcare needs—one question that needs to be asked is whether or not they will ever have that kind of relationship with a primary care provider given the convenience of the healthcare alternatives that are emerging.
Older people—Baby Boomers and the Silent Generation—much prefer receiving care from their primary care providers, while younger people—Generations X, Y, and Z—don't show a strong preference for any particular platform. While the frequency of visits to primary care providers are very consistent across generations, younger people are much more open to urgent care and retail clinics, and utilize those alternatives at a significantly higher rate than older folks.
The generational differences are especially obvious in the frequency of visits to retail clinics—72 percent of Gen Z reported visiting a retail clinic for healthcare services three or more times in the last 12 months, compared to zero percent of the Silent Generation, showing a complete shift in the retail clinic philosophy amongst younger customers.
Younger folks are also much less likely to go to the doctor even when they're sick because they feel it is too much of an inconvenience to even bother with the healthcare system today. Additionally, young people are much more open to using telemedicine tools.
Incidentally, older people reported being much more satisfied with the care they've received in the last six months, where younger people are far less impressed with the care environment today. What that means for the perceived level or quality of care offered by primary care alternatives is certainly open to interpretation.
Meeting Customer Needs and Expectations
"Change is necessary," Stanek stated after presenting the results from the survey. "If we're going to be in the everyday healthcare business, we see that there are some things we can do to improve."
For primary care, the main reason people don't go to primary care today is because of the inconvenience—it takes too long to get an appointment, walk-in appointments are not available, they're spending too much time in the waiting room, etc. "We're making it inconvenient for customers, and that's driving them to alternatives," he said.
Some of the things that need to be done to address these issues include improving access, putting the customer first, and expanding the service definition. Customers expressed a desire to see primary care services expand beyond just "fix me" health to include a more holistic view, including sleep issues, weight management, nutrition and dietary advice, and mental wellness.
In urgent care, many of the reasons given for not considering urgent care were around a lack of familiarity—customers don't know the doctor or trust the quality of care (this was more of an issue with older customers than younger ones), the cost of services are too high and the fee structure unclear, and the wait times are too long. Improvements here include promoting familiarity as much as possible, if not with specific staff members then at least with the brand; managing efficiencies in processing times and wait times; and, much like with primary care, expanding the services offered.
Those who use urgent care expressed interest in seeing services expanded into testing, imaging, allergies, headaches, and asthma—some of the more serious and urgent issues that retail clinics are not equipped to handle and for which waiting two or more weeks for a primary care appointment isn't feasible. Additionally, Stanek said, they saw that younger people are using urgent care just like primary care, so there is an opportunity for urgent care clinics to become the primary care provider for younger people that they can take advantage of that.
The Future of Healthcare is Retail
Retail clinics had a lot of issues with concerns over lack of familiarity with care providers, quality of care, and trust (again, more pronounced with older customers than younger ones), as well as not offering services appropriate for customers' needs and services not being covered by insurance. Retail clinics need to improve the quality of their care, both real and perceived, which means also improving their credibility. They also need to better connect to the broader healthcare ecosystem: what do they mean when they talk about "healthcare" and how do they connect that with what they're known for in terms of the products and services they sell in stores.
There are some possibilities for expansion of services at retail clinics, though on a much smaller scale than in primary care or urgent care. Testing (blood, DNA, urine), allergy treatment, and wellness services like nutrition and dietary advice and weight management are all potential areas for service expansion.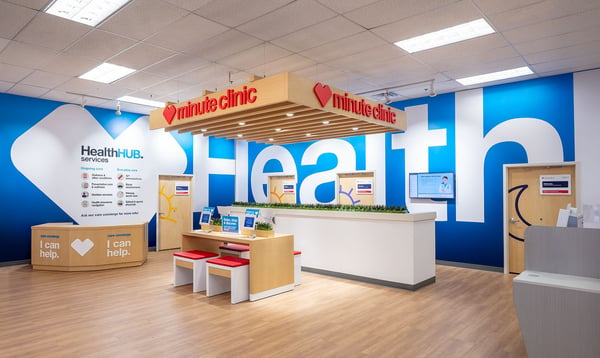 CVS HealthHUB
New initiatives in the retail space are already launching, like CVS HealthHUB, which offers an expanded range of health services and wellness products for everyday care and chronic care management, beyond the flu vaccines and other MinuteClinic services already offered. Walmart Health also promises to be a significant disruptor, offering services as wide-ranging as primary care, labs, X-ray and EKG, counseling, dental, optical, and hearing and community health education. Massive supermarket chains like Kroger and Publix are also getting into retail clinic operations.
"Disruption is already here," Stanek concluded. "We're seeing chinks in the armor with primary care, and we're seeing a number of new initiatives coming on board to try to address some of the issues we saw in this study."
There are alternatives out there for younger customers who are becoming increasingly attracted to them, and in general, as Dr. Stephen Klasko states, "healthcare is moving away from the physician-and-administrator-as-the-boss to the patient as the boss", adopting the customer service credo "the customer is always right."
"It's important for us to recognize we're going through a once-in-a-lifetime change in healthcare," Stanek concluded. "We have to fundamentally change how we do things, starting by understanding and listening to the customer."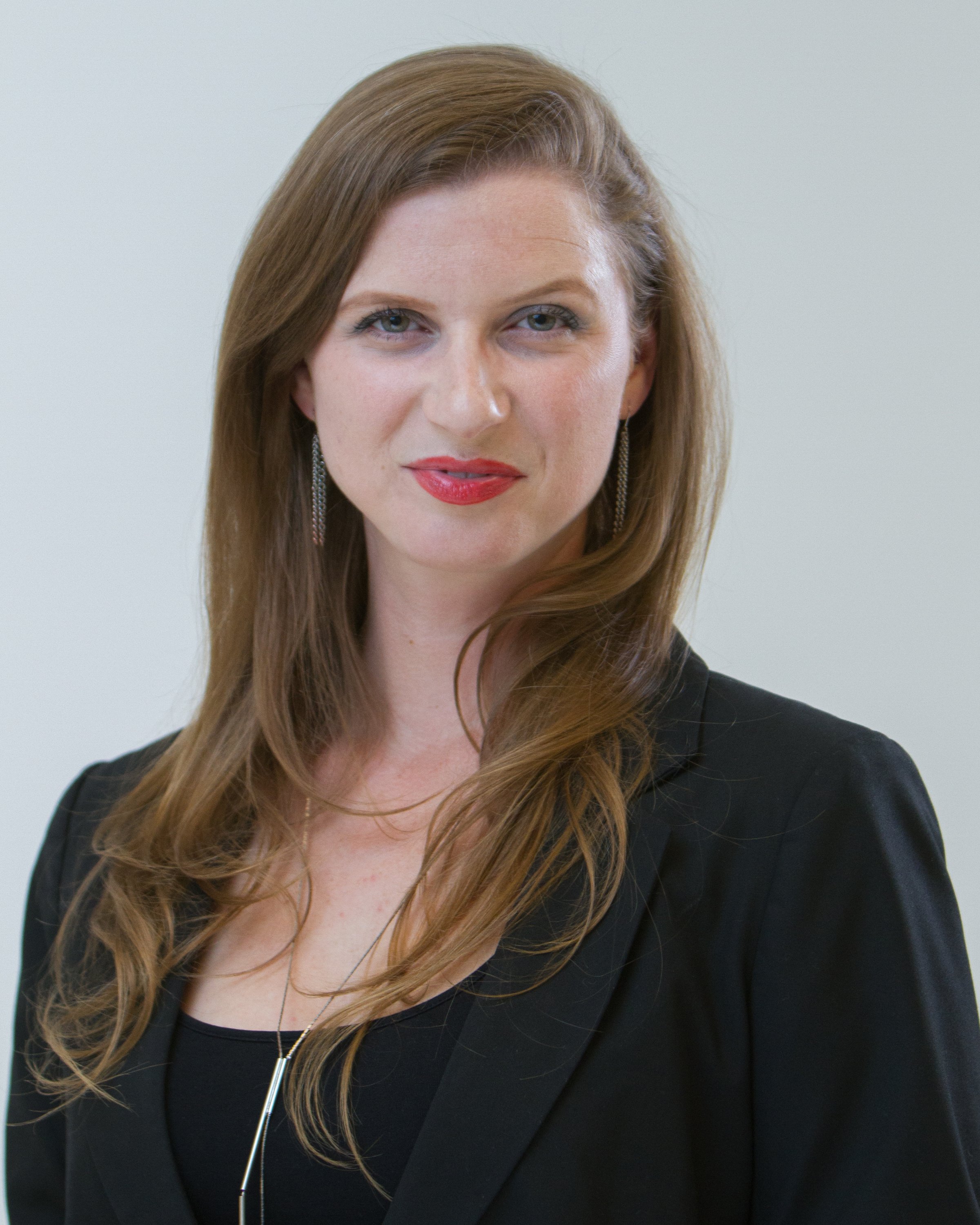 Posted by
Nicole Rupersburg is a content and conference producer for influence group focused on education healthcare and hospitality. She also is a frequent freelance writer covering food, travel, arts, culture, and what-have-you.
Collaborate with your Peers!
HealthSpaces is a community for people that plan, design, build and operate spaces where healthcare is delivered.
Jun 12-14, 2022 | Louisville, KY
Learn More