The healthcare provider explains what the health of buildings has to do with the health of humans during a talk at HealthSpaces.
Why would a medical practitioner – clinically trained in pediatrics and board-certified in preventive medicine – decide to pursue work focused on the built environment? Simple. "The data brought me here," said Matthew Trowbridge, Associate Professor of Emergency Medicine at UVA and Chief Medical Officer of the International WELL Building Institute. "The reality is that place and health are inextricably linked."
Don't believe him? Consider one striking fact: a person's zip code is a more significant determinant of their life expectancy than their genetic code. In New York City, a few subway stops can make a difference of almost a decade in life expectancy – from 76 years in East Harlem to 85 years in Murray Hill. In other cities, like New Orleans, a mile or two can make a difference of 20 years.
"What's going on here?" Trowbridge asked. "It turns out that only about 20 percent of variation in healthcare outcomes at a population scale comes from the quality of the healthcare that I deliver in a hospital. Eighty percent, the rest of it, comes from social and environmental determinants of health."
"It's everything else other than what happens in a hospital," he continued. "It's where you live. It's your access to grocery stores. It's your access to safe and enjoyable places to walk on a daily basis. These are the things that, it turns out, have a huge impact on the behaviors that you have and opportunities you have to be healthy, and then ultimately what your health outcomes are."
While many of these factors are near-impossible to change, some are easier, like built environments. The idea is hardly far-fetched, as historical efforts to ban lead paint or (more recently) mitigate car dependency have shown. The importance of health-focused design will only become more important as the ravages of climate change expose more and more vulnerable infrastructure.
"We're realizing that the way we design cities and so forth makes us suddenly vulnerable to things like extreme weather events," Trowbridge said. "The good news is that actually doing something about this – thinking about how to design healthy places – is actually becoming better understood. We really can achieve healthy and equitable communities."
Investing in Healthy Spaces
Consider East Lake, Georgia. Once one of the most dangerous parts of the Atlanta metro region, Trowbridge explained, a massive redevelopment launched in the mid-1990s turned the neighborhood into an exemplar of health-focused planning with things like affordable mixed-income housing and a beautiful YMCA, resulting in plummeting rates of interpersonal violence and some of the highest test scores in the region. "It's been a runaway success," he said. "An investment like this can really have a massive impact."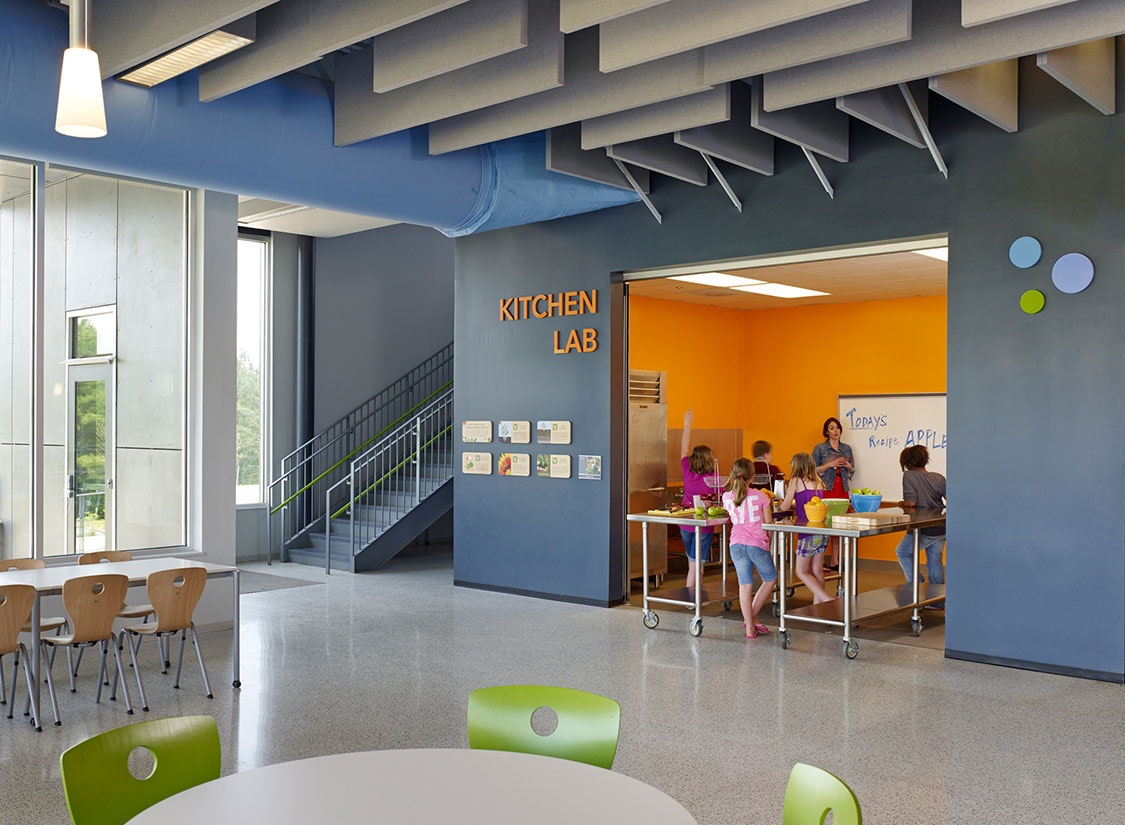 Dillwyn Elementary School. Photo by VMDO Architects.
Or consider Dillwyn Elementary School in Buckingham, Virginia. When Trowbridge, working with VMD Architects, was charged with joining two schools into one – finally eliminating a vestige of the district's segregation-era history – the town's superintendent was all too clear about the project's stakes. "This $50 million isn't just the only $50 million that's going to go into schools in the next 20 to 30 years," he told Trowbridge. "It's the only $50 million that's going to go into children's health for the next 50 years." Their mission wasn't just to design a new school; it was to address the community's biggest health issue, childhood obesity.
Trowbridge and VMD started by authoring design guidelines for physical activity and healthy eating, using them as a foundation for their own process of designing the new building. The final product reflects this design framework in both the broadest strokes and the smallest details, from the stairwells designed to promote physical activity to the ergonomic furniture intended to reduce the amount of time children are seated. "It truly has a sense of a culture of movement that you can feel," he said.
Scaling Up
Scaling up this approach will take more than "random acts of health promotion in the built environment," said Trowbridge, citing a favorite phrase of his colleague Chris Pyke. Instead, creating a broader culture of health – and a robust market for health-promotion design – will take the standardization of frameworks like the WELL Building Standard: comprehensive models for design, policy, and management that center on health and well-being.
"It is the leading tool for advancing health and well-being in buildings and communities globally," he said. "It's based on those same ideas and the same research that I was citing: this idea that the buildings where we live and work, learn and relax can really profoundly impact our health, wellbeing, and productivity."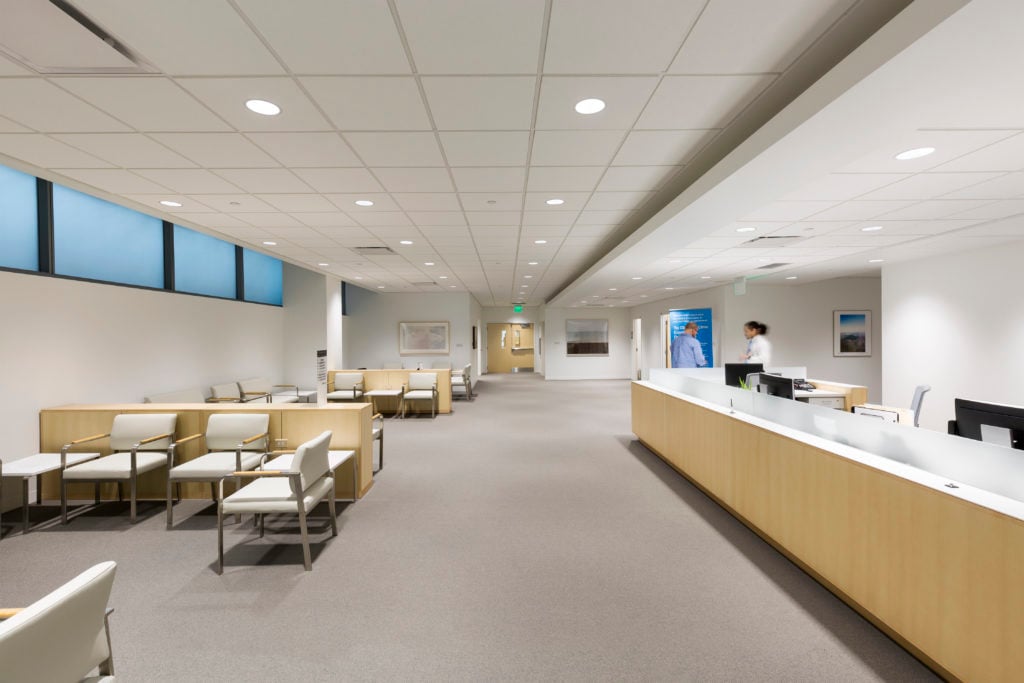 Cleveland Clinic's Center for Functional Medicine. Photo by Bostwick Design Partnership.
The WELL Building Standard has been adopted in almost 100 companies, a rapid spread that reflects the global enthusiasm for healthy design. Still, Trowbridge stressed, one remaining hurdle is bringing healthcare systems into the movement. "We're at a profound moment of change, where we do have to think differently about how health systems position themselves within the community and what they think about as their role," he said.
He believes healthcare systems have to position themselves as inclusive, dynamic platforms for health promotion in their communities, both on the macro level – by adopting healthy building standards – and on the micro level, as in Trowbridge's "med design program," where he teaches medical students about the importance of physical space in the provision of healthcare.
Leveraging Expertise, Listening to Patients
Because it's not just about changing the design approach: it's also about changing who designers engage in the process. "Figuring out how to capture patients' perspectives better in design is something we all need to do together differently," he said. Only by capturing those perspectives and leveraging clinical expertise can the industry successfully forge a healthier future. "This can work if we do it together," Trowbridge concluded. "This is one of the biggest pieces of public health right now."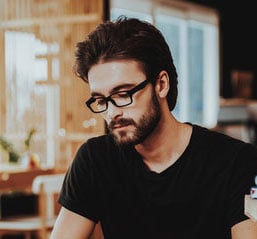 Posted by
Steve Manning is a journalist based in Idaho. When he's not writing, he can usually be found at the theater or taking his dog on a hike. If he could only go to one restaurant for the rest of his life, it would be Al's Place in San Francisco.
Collaborate with your Peers!
HealthSpaces is a community for people that plan, design, build and operate spaces where healthcare is delivered.
Jun 11-13, 2023 | Dallas, TX
Learn More